Newsroom
Robert Morris University
Twins Taking Turns Talking
Aliquippa alumni Dwan and Donald Walker give commencement addresses to the Classes of '20 and '21.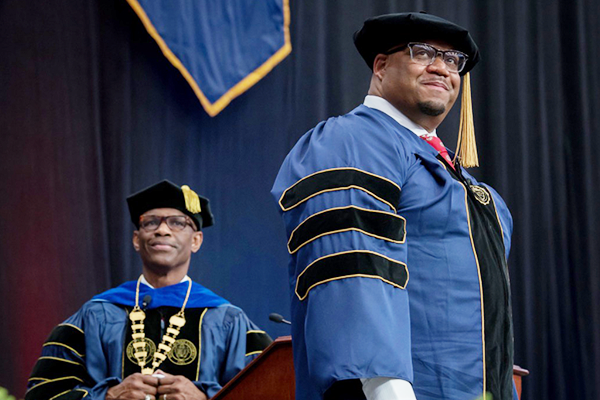 Dwan Walker '99 and Donald Walker III '99 prefer to do things together. The twin brothers played football together growing up in Aliquippa, then for Robert Morris when the Colonials still played at Moon Area High School. They were both elected to public office together in 2011 — Dwan as his hometown's first Black mayor, and Donald as a city councilman.
This year, the two are both commencement speakers for their alma mater — Dwan for the graduate ceremonies and Donald at a special campus ceremony for the Class of 2020, whose initial commencement was held online because of coronavirus.
In Dwan's moving address to the master's degree recipients in May, he recalled feeling a connection to RMU the moment he first set foot on campus to see his cousin, Myron Walker, the all-time leading scorer of the Colonials men's basketball team. He also recalled bringing his young daughter to classes when he couldn't find a babysitter.
"Be purposeful, be mindful, be respectful," he told the graduates. "Because you are planting trees that you may never sit under the shade of."
Speaking at commencement is only the most recent honor for the Walker brothers this year. In April the Pennsylvania Department of Community and Economic Development named the City of Aliquippa a 2021 recipient of the Governor's Award for Local Government Excellence. The Walkers were singled out for being a "driving force" behind efforts to stabilize the city's finances and strengthen its economy following years of structural deficits.
The Walkers played football for the Colonials under inaugural head coach Joe Walton. Neither was a starter, but Donald treasures one moment when both were on the field. It was a rainy game in 1997 vs. St. Francis, and Dwan recovered a fumble. As he ran off the field celebrating,  Donald — the older brother by 10 minutes — jumped on him from behind and tackled him again. Dwan then threw the ball into the stands to their cousin watching, who then handed it to their mother. Their parents have kept the ball in their home to this day.
Besides their city government duties, Donald is the district substitute teacher for Aliquippa High School and an assistant youth football coach, and Dwan is a customer loyalty specialist at Guardian Protective Services.
Read "Hometown Heroes," a profile of the Walkers, from the Summer 2012 issue of RMU Foundations and watch a video about how their deceased sister Diedre is their inspiration.