Information Systems and Communications Ph.D.
Apply Today
Acquire the interdisciplinary knowledge and research skills to become a scholar and leader in the critical nexus of information systems and communications.
Register for an Upcoming Information Session
Information Systems and Communications (ISC) is a 3-year, executive-style Ph.D. program designed to meet the needs of working executives and professionals who wish to excel in leadership roles in industry, as well as of educators and researchers in information systems, technology, or communications fields.
Interdisciplinary Program: The program prepares students with a deep understanding of the connections between information technology and human communication.  Students explore both technology-driven and communication-based problems, focusing on understanding the impacts of this interdisciplinary field on both the workplace and society.  
Faculty Scholars:  The program is taught by a supportive and engaged faculty who are active in research and experts in their fields of study.
Cohort Model: Students advance through the program as a cohort, taking courses together as a group and building professional and personal networks. 
High Success Rate: The cohort model and face-to-face residencies help to minimize isolation and enable success, with over 90% of students completing their degree within 3 years.
Blended Learning Format (Online + On-campus Residencies)
The blended learning format features online and immersive on-campus residencies that allow for flexibility and high levels of engagement with faculty and other students in the program.  Each course includes an online component which adds flexibility, reducing the travel time required for the program, and giving the freedom to complete some of the course requirements from anywhere anytime.
Online Component
Students will engage with faculty online, in a combination of synchronous online meetings (6 hours per course, scheduled over 3 Saturdays) and asynchronous online activities.  
Face-to-Face Residencies
5-day residencies (one in late August and one in early January)
3-day weekend residencies (one in October and one in March)
Program Overview

The ISC Ph.D. addresses the challenges and complexities of our increasingly technological, Internet-connected, and data-driven society by preparing leaders and educators to conduct research, make decisions, and solve problems through integrative perspectives drawn from the fields of information systems and communications.

Curriculum

This accelerated program includes 60 credits of coursework:

27 credits of interdisciplinary content courses in information systems and communications
21 credits of research methodology courses
12 credits of directed studies focused on dissertation writing

The program culminates in a dissertation representing original research in the field of information systems and/or communications.  The proposal and defense of this dissertation are primary requirements for the degree.

Year 1 - Fall

Year 1 - Spring

Year 2 - Fall

ISCM8220 Data Analytics: Managerial Perspectives
ISCM8230 Quantitative Research Methods I
ISCM8240 Qualitative Research Methods

Year 2 - Spring

Year 3 - Fall

ISCM8380 Analyzing and Interpreting Data
ISCM8320 Information Security and the Law
ISCM9300 Dissertation III - Data Analysis & Research Findings

Year 3 - Spring

ISCM8310 Economics of Information Systems and Technology in the Digital Age
ISCM8330 Contemporary Issues in ISC
ISCM9400 Dissertation IV – Dissertation Completion & Defense

Program Milestones

The Ph.D. in Information Systems and Communications program includes several milestones:

At the end of the first year: A qualifying exam of study on critical thinking and proficiency in research writing. Upon passing the exam, the student is admitted into doctoral candidacy.
At the end of the second year: Dissertation proposal defense to the student's doctoral committee.
At the end of the third year: Doctoral dissertation defense to the student's doctoral committee 

Admissions Requirements and Tuition

Each new cohort accepted into the Ph.D. in Information Systems and Communications (ISC) program enrolls in the Fall semester (starting in August each year).

Minimum admission requirements:

Master's degree from an accredited institution
Minimum graduate GPA of 3.0
Completed online application to the program (www.rmu.edu/apply) with required application materials

Official transcripts of all undergraduate and graduate course work;
Three (3) letters of reference from individuals in professional or academic communities who are familiar with the applicant's work;
A current resume that includes all education, professional work experience, certifications, and other relevant information;
An academic writing sample (this can be an academic paper previously completed for a Master's degree program, a publication, or in lieu of either of the first two options, a 4-5 page essay focusing on a problem related to information systems or communications experienced or observed in the workplace)

Personal interview with the Doctoral Program Director and Doctoral Admissions Committee.

International students applying to the program must also provide results from a test of English language proficiency.

Please see RMU Tuition and Fees for current tuition rates.

Research Areas

Our doctoral students take on a broad range of topics and problems related to information systems and communications.  Some of our key research areas include:

Faculty Bios

Our Alumni

As a graduate of our doctoral program, you will join more than 300 distinguished alumni. Of our alumni, approximately 40% work in the private sector, 35% in academic institutions, and 15% in think tanks, consulting firms, and government.

The following list is a sampling of organizations where our graduates work, research, and lead:

Private Sector:

IBM
Boeing
UPMC
CONSOL Energy, Inc.
Kaiser Permanente
Capital One
Thermo Fisher Scientific
PNC
BNY Mellon
Highmark Health Solutions
Anthem
Bayer HealthCare Pharmaceuticals LLC
Westinghouse Electric Co.
UPS
Fragomen
Bayer Crop Science LLC
Salesforce
DICK's Sporting Goods
WESCO International, Inc.
General Electric Company
Johnson & Johnson
Duquesne Light Company

Academic Institutions:

Carnegie Mellon University
University of Pittsburgh
Penn State University
University of Maryland
National Defense University
Edinboro University
Frostburg State University
Dwight D. Eisenhower School for National Security and Resource Strategy
Virginia Military Institute
Indiana University of Pennsylvania
Clarion University
Florida Atlantic University
Slippery Rock University
Carlow University
Grove City College
California University of Pennsylvania
Geneva College
Middle Georgia State University
Point Park University

Think Tanks, Consulting Firms, and Government:

The MITRE Corporation
Booz-Allen Hamilton, Inc.
Department of Homeland Security
Department of Defense
Federal Bureau of Investigation (FBI)
Air Force Office of Special Investigations
U.S. Army Cyber Center of Excellence
Department of the Army
Department of the Navy
Internal Revenue Service (IRS)
Department of Veteran Affairs
National Telecommunication and Information Administration

Alumni Testimonials

Michael Love, D.Sc. (Cohort 19, Class of 2020)
Lieutenant Colonel, U.S. Army
Deputy Chief, Cybersecurity Operations Center
National Geospatial Intelligence Agency

"The doctoral program at Robert Morris was a challenging and rewarding journey that supported my goals as a life-long learner.  The program helped me step into the world of academic research and opened doors to new opportunities that I would have never realized before this journey.  Thank you!"

Stuart Williams, D.Sc. (Cohort 19, Class of 2020)
Chief Technologist
The MITRE Corporation

"The RMU information systems and communication doctoral program has been instrumental in adding the skills, credentials, and gravitas necessary to establish me as a capable thought leader among my peers and career engagements. The program allowed me to expand on my unique, existing area of expertise by applying core research and thought leadership principles, enabling me to contribute to knowledge in my field. The experience also allowed me to interact with other thought leaders from other domains, expanding my personal connections and network. 

Immediately after graduation, I was able to put my new credentials to use by using my research and thought leadership skills gained through the doctoral program to support several efforts related to COVID-19 pandemic research and response efforts in the United States. Having the credentials provided immediate, recognizable credibility backed up with the capabilities and tools the RMU program provided me. I urge doctoral candidates and prospects to consider the unique programming offered by RMU's focused doctoral program as a key benefit to a targeted approach to a high-quality credential for your future."

Bill Carney, D.Sc. (Cohort 18, Class of 2019)
Principle Systems Engineer
The MITRE Corporation

"Family. That's what immediately comes to mind when I think about my time at RMU. The Cohort, the Professors, the Staff, all coming together for an extraordinary educational purpose. I certainly do miss those times, but the Family gained is everlasting. Cohort 18 'One Team, One Fight!'"

Fred Hoffman, D.Sc. (Cohort 18, Class of 2019)
Interim Chairman, Intelligence Studies Department, Mercyhurst University
Assistant Professor of Intelligence Studies, Mercyhurst University

"I am a big fan of the doctoral program at RMU! I successfully completed the program in May of 2019, and several months later was offered a teaching position at Mercyhurst University in Erie, PA, where I soon became the chairman of the Intelligence Studies department. One of my responsibilities is helping our Applied Intelligence graduate students develop, research, submit, and defend their master's thesis – a task for which the RMU doctoral program prepared me well.  One of the most noteworthy things about the RMU doctoral program is its extremely high success rate: Whereas virtually all other doctoral programs have a less than 50% success rate, the RMU program has maintained a roughly 90% graduation rate for two decades. As my co-authors and I explained in a published article on the subject, one of the factors contributing to this success rate is RMU's cohort model. Our doctoral cohort was a very closely-knit group; we still keep in close contact with one another."

Alvi Lim, D.Sc. (Cohort 18, Class of 2019)
Lead Information Systems Engineer
The MITRE Corporation

"The RMU Information Systems and Communications Doctoral Program has widened my field of studies, taught me how research is conducted, and challenged me to view the world with multiple lenses. The program at RMU is compact but achievable, with an extraordinary group of professors who is always available to guide you to success."

Jay Wang, D.Sc. (Cohort 18, Class of 2019)
Principal Systems Engineer
The MITRE Corporation

"I very much enjoyed and greatly benefited from the program's balanced coverage of both technical and cultural factors applied with both quantitative and qualitative methods. It was a blessing to learn from the diverse and rich professional and life experiences of peer students throughout the entire three years - brainstorming and bonding without peer pressure but plenty of peer support. I am a better practitioner and researcher thanks to the caring and capable faculty and staff."

Majed Afandi, D.Sc. (Cohort 17, Class of 2018)
Cybersecurity Risk Manager
Capital One

"The atmosphere, analytical and scientific knowledge, and research tactics I experienced through this program are forever remarkable. What I learned and achieved throughout the program helped me grow in my professional life. In fact, a number of fortune organizations were interested in my dissertation findings which resulted in me accepting a suitable career opportunity in one of them.  It is without a doubt, one of the best decisions I've ever made."

Anne Shepherd, D.Sc. (Cohort 17, Class of 2018)
Associate Chief Information Officer
Internal Revenue Service

"The RMU doctoral program was a game changer for me, fueling my research interest in innovation strategy and culture.  The experience expanded my critical thinking and world view.  Few programs at this level have such an engaging and supportive faculty which makes the RMU journey quite special."

Dave Verret, D.Sc. (Cohort 15, Class of 2016)
Director, U.S. Army Signal School, Regional Signal Training Sites Division
U.S. Army Cyber Center of Excellence

"I truly appreciated the doctoral program offered by RMU in Information Systems and Communications.  What stood out to me were the quality instruction, scheduling, cost, and the awesome classmates in my cohort. RMU is a wonderful school with a staff that encourages the executive-level students with unparalleled support and enthusiasm. I truly enjoyed the residencies and the camaraderie, too, even though I had to travel from Georgia to participate – it was worth it!"

Gary King, D.Sc. (Cohort 14, Class of 2015)
Deputy Director, Cybersecurity
Office of Special Projects
Air Force Office of Special Investigations

"I stopped considering other doctorate programs after attending an RMU informational session in the Washington, DC region. I was looking for an in-residence program that would allow me to continue working, and use my Post-9/11 GI Bill benefits. My interaction with the faculty, students in the area, and alumni provided me with a sense that RMU was the best academic institution for me to achieve the goal of earning a doctorate degree.
 
Robert Morris University provided others and me with an intellectual academic environment where students were encouraged to express and examine differing opinions, and allowed the application of out of box constructs to solve problems.  That nurturement bred meaningful contributions to the bodies of evidence in our respective areas of study.   
 
For me, from day one to post graduation, my continued interactions with faculty members, other students, and my cohort classmates has validated and reinforced that I made the correct decision in selecting RMU to pursue a Doctorate in Science in Information Systems and Communications.  Without the benefit of hindsight…I still, without hesitation, would choose RMU as my first choice to pursue a doctorate degree."

Quinn Lanzendorfer, D.Sc. (Cohort 14, Class of 2015)
Technical & Acquisition Program Manager
U.S. Department of Defense

"The Information Systems & Communications doctoral program at Robert Morris University offers students the ability to take their knowledge to the next level. The program opens doors for publishing research and to be recognized as a subject matter expert."

Contact Information

Dr. Jamie Pinchot

Director, Ph.D. Information Systems and Communications Program
Professor of Computer and Information Systems

pinchot@rmu.edu
412-397-6050
Wheatley Center 327
Sample Courses:
These are some of the classes for students in this academic program:
Theories in Action in Information Systems and Communication
Qualitative Research Methods for ISC
Economics of Information Systems in the Digital Age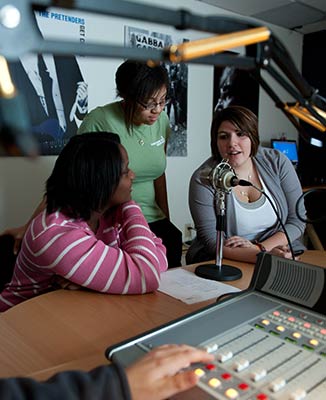 School of Informatics, Humanities and Social Sciences
Focus on delivering information in a way that makes an impact. Create images that capture attention, compose words that inspire, and design technology that changes how we live.
Visit School Site