Early Internship and Summer Leadership Program Info Session and Networking
Many CPA firms offer summer leadership programs that introduce the firm, public accounting, and careers in accounting to early college students. These are competitive programs that usually lead to internship offers. These programs range from a day to a few days that really provide immersion experiences in summer for students exploring accounting careers.
Date/Time = Thursday 2/24 from 3:30 - 5:00 PM
Place = Wheatley Atrium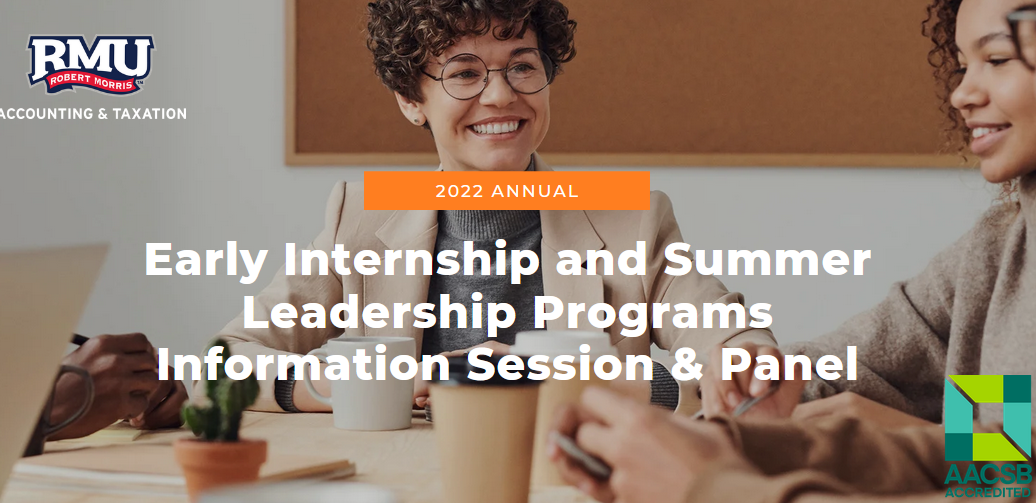 Come join BOD, HBK, BKD, Grossman Yanak & Ford, Deloitte, Schneider Downs, and EY to find out more about these great opportunities. This event is co-organized by the Association of Future Accountants and Beta Alpha Psi.
Students should use the event website as a tool to get familiar with the opportunities available to them before the event in order to maximize their time networking with firms of their interest. Students should dress in business casual attire and are encouraged to bring their resumes.
Students are encouraged to network with all of the firms present and get a signature of a representative from each firm. If students interact with all firms that are present at the event, they will receive an RMU Accounting pressure-release push pop! Students will then be entered into a raffle for one of three great prizes sponsored by AFA! The grand prize is a pair of Apple AirPods, followed by two RMU-merchandise prizes! Prizes will be raffled at the end of the event and winner must be present to claim prize.