The 17th RMU Sport Management Summit a Resounding Success
Featuring participants from 44 U.S. States, Canada, Mexico, Sweden, Germany and Puerto Rico!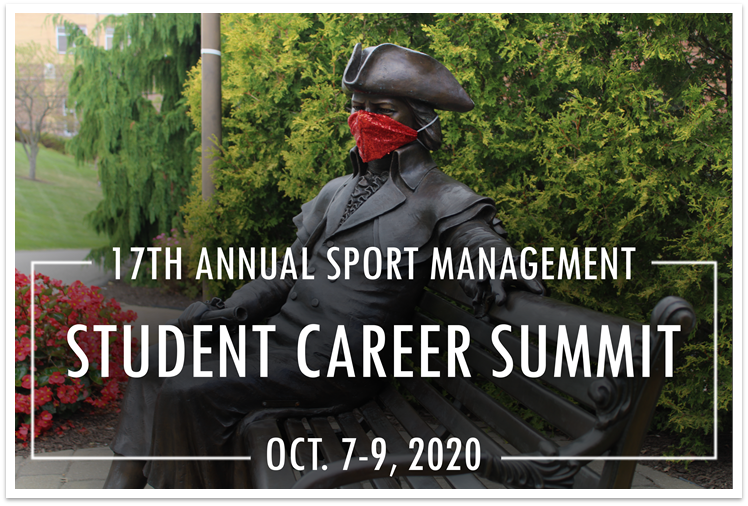 "The RMU Sport Management Summit is one of the best conferences around that brings industry leaders together to help students. The RMU alumni is a special group of people that are paying forward to RMU Students." - Dave Perricone (RMU sport management alumni & professor at Centenary University)
The RMU Department of Sport Management and School of Business held its 17th annual Sport Management Virtual Student Career Summit over the three-day period of October 7, 8, and 9, 2020. This year there were 785 registrations representing 145 universities and colleges from 44 U.S. States, Canada, Mexico, Sweden, Germany and Puerto Rico!
The summit's goal this year was to provide quality professional experience, guidance and support to students with their industry career development. Over the three days, this was done with workshops on skill development, the state of the industry, and career development, as well as panels of professionals. These panels featured a total of 24 industry leaders, half being top executive leaders and half being mid and senior level managers. Nicholas Poilucci, a current sport management student at RMU and president of the Sport Management Association, states that the summit "has been a staple of my four years within the program…. [the summit] has not only taught me about the many facets of the sports industry including sales, analytics, and plenty more, but also expanded my network."
This year's summit was exceptionally successful in accomplishing its goals, despite the added twist of being a fully virtual event. "From how to strengthen your resume to understanding which role a sports team plays in society, the content provided was as authentic and applicable than ever before", states Joel Gray, a sport management alumni and manager of community outreach for the Pittsburgh Pirates. Students were also given the opportunity to expand their networks with industry professionals, such as sport management alumni and president of MC Sports Sales Training, and Consulting, Murray Cohn. "I have spoken to students after my sales workshop who said the content was incredible and game changing and have been able to help several already with interviews for internships and positions in the Sports Industry", states Mr. Cohn.
Additionally, the summit was supported by two events. The first being the pre-summit workshop organized by Dr. Artemis Apostolopoulou, in which 36 students, with 12 RMU Sport Management alumni, participated. The second was a case competition entitled "Be the Difference" in which four teams from RMU and Centenary University participated. The case was created and judged by RMU Sport Management Alumni Anthony Tate, Joel Gray, Nicole Kyslinger and Dave Pericone. Mr. Poilucci was a member of the winning team, called "Dave's Diamonds", and states that the "case study competition provided real-world experience with what sports franchises are battling today", including, "an opportunity to create stable revenue streams, provide meaningful partnerships, and unique fan engagement experiences."
Furthermore, three new members were welcomed into the RMU Sport Management Hall of Fame during the summit. A huge congratulations to Tom Berl, Alyssa Blumling and Derek Schuster who all received their rings during the virtual induction ceremony on October 8th!
                Last but certainly not least, a big congrats goes to RMU professor and head of the sport management department, Dr. Synowka and the rest of the team for a successful 17th sport management summit. Dr. Synowka received many compliments upon the completion of the summit from panelist, speakers, and students. This includes Murray Cohn, who gives "Kudo's to Dr Dave Synowka for his Leadership and the RMU Alumni for putting together a fantastic 17th Annual RMU SM Student Summit", as well as Joel Gray who states, ""Hats off to Dr. Synowka and his team for their thought leadership and intentional approach to insuring Robert Morris University offered all attendees a priceless product."