Dr. Marcel C. Minutolo Speaks at State Senate Hearing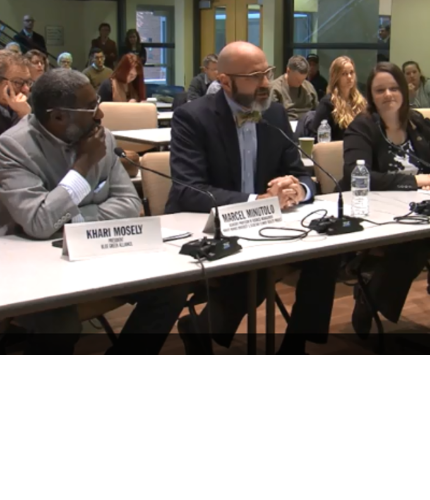 On the morning of Wednesday November 28, 2018, RMU School of Business Associate Professor, Dr. Marcel C. Minutolo, sat before the Pennsylvania State Democratic Policy Committee to address climate change in the state through controlling carbon emissions.
Senator Lisa Boscola, committee chair, and Senator Jay Costa (43rd Senatorial District) invited Dr. Minutolo to the committee hearing to testify on "approaches to Greening Business, and how sustainability initiatives fit into business strategy."
Dr. Minutolo discussed the challenge of "finding the balance" of sustainability and how it requires planning. He went on to tell them that while sustainability plans are becoming an imperative, there is no one-size fits all program. 
He suggested one avenue of correction for businesses pursuing a sustainability business strategy, LEED certification, and gave proven examples to support the suggestion. 
He went on to say, "the challenge is picking the standard that matters for the industry that one is in; adhering to the metrics that make sense for the firm's strategy; making the tight fit between activities and strategy; and, finally, above all else, leadership commitment."
He ended his time with the Senators by letting them know "being socially and environmentally responsible is not at odds with economic performance as some may have you believe."
Dr. Minutolo recently had a paper co-authored with RMU School of Business colleague, Dr. Albena Ivanova, accepted for publication in the International Journal of Environment and Sustainable Development entitled, "LEED certification and market value of the firm.