ITA Awards Ceremony & Factory Visit
RMU Engineering Students attend annual Italian Awards Ceremony.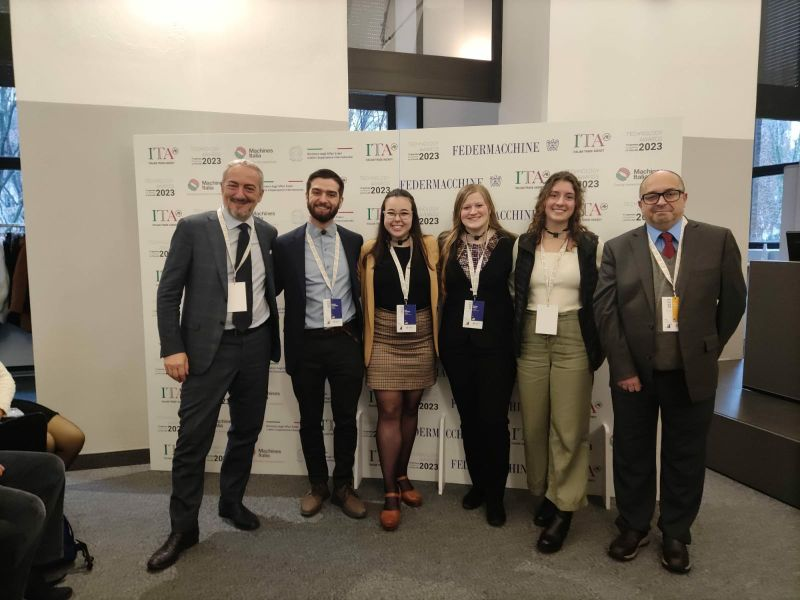 Engineering students Amanda Wolfe and Leia Farroux participated in the 2023 Italian Technology Awards program (January 15-20, 2023) after their paper on smart glass, winning in the glass machinery. They were joined by 3 other students (from Lehigh University, University of Notre Dame, and California Polytechnic State University San Luis Obispo). The US student delegation was accompanied by Dr. Arif Sirinterlikci, University Professor of Engineering.  Students and the accompanying professor visited multiple companies in Milan and Verona area including Cefla, CMS SpA, FOREL Spa, OCMI-OTG SpA and Studio 1 Automazioni Industriali. The group also had the chance to experience Italian history and culture, and now receiving interest from these companies for employment. The program is sponsored the Italian Trade Agency (ICE)/Italian Government along with Glass Machinery Association (GIMAV). This award was the 3rd award RMU engineering students received in the past 14 years under Dr. Sirinterlikci's mentorship. Other machinery category winners included University of Michigan, Michigan State University, and University of Oregon.