LEGO Bobby Mo
Students use 3D laser scan to reproduce a bust of Robert Morris.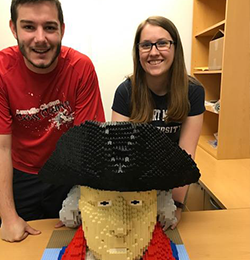 Engineering students Hannah Arnold and Andrew Mason completed a bust of Robert Morris using LEGOs. The project was conducted under the supervision of Head of Engineering Dr. Arif Sirinterlikci. Engineering student Steven Lopez and Cyber Forensics and Information Security student Hannah Bartus also contributed to this project.
Working with a 3D laser scan of the plaster bust currently located in RMU's Heritage Room, the team converted the data into an OBJ file, a standard 3D image format that can be exported and opened by various 3D image editing programs. The OBJ file was then input into multiple LEGO digital design software packages for breaking the geometry into the plastic bricks.
"Projects like this show how 3D printing techniques and principles can be used in ways you might not imagine," said Sirinterlikci.
Arnold and Mason's expertise enabled the team to manually modify the digital design and optimize the brick structure. The bust is hollow for weight control and for accommodating future changes including the addition of animation features.