SEMS Students Visit G.E.
Faculty and six engineering students tour additive manufacturing center.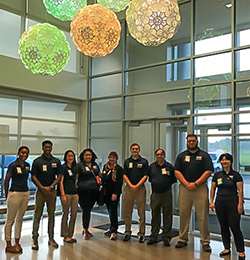 Six RMU engineering students — Drew Garbenis, Nolen Keeys, Daniela Nkama, Jessica Sales, Yukihi Suzuki, and Daniel Walter — visited the General Electric Additive Customer Experience Center in Findlay Township in September.
Accompanying them were Dean Maria Kalevitch, Department Head Dr. Arif Sirinterlikci, and Dr. Rika Carlsen, assistant professor of mechanical and biomedical engineering. Also taking part in the tour were RMU President Dr. Chris Howard, Provost David Jamison, Vice President of Corporate Relations and Senior Vice Provost Dr. Derya A. Jacobs, and Xavier M. Hickman, special assistant to the president.
"It was a great experience to see the same technology we have at Robert Morris used on an industrial-level scale and how a large corporation like GE is utilizing additive manufacturing in their different divisions," says senior mechanical engineering student Daniel Walter.
During the tour of the facilities, the students learned about GE's work in additive manufacturing from Jennifer Cipolla, who runs the center. The students also had the chance to meet with a recent RMU engineering alumnus and Junior Additive Engineer Jessica Gonzalez '17.