2023 Student Recognition Awards Ceremony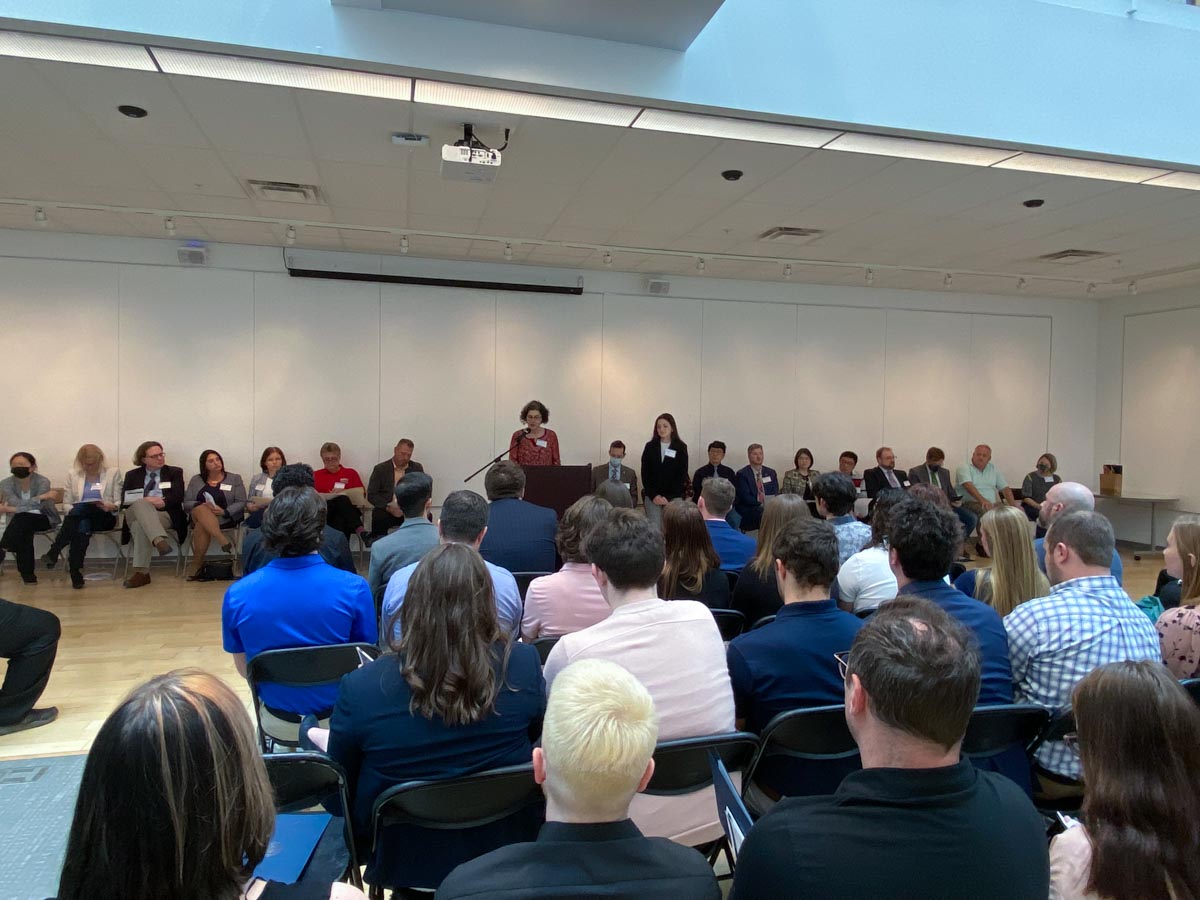 Each year, the annual Student Recognition Awards Ceremony honors the best and brightest students in the school. This year the ceremony was held in the Wheatley Atrium on April 5th. The list of recipients includes Deans Scholars, selected scholarships, and special awards.
Interim Dean, Frank Hartle, and a number of CIS, Social Sciences, Arts and Humanities and Communication and Organizational Leadership, as well as the Academic Media Center presented the Student Awards.
Congratulations to all the recipients!
 Dean's Scholar Awards
Noah Cintron, Michael Depace, Jane Garver, Paul Soroka
CIS Outstanding Graduate Student Award
Sean Fuchel, Jeffrey Kantner
CIS Outstanding Student - B.S. Information Sciences
Jeremy Griffith
CIS Outstanding Student - B.S. Computer Information Systems
Michael Depace, Noah Kulczycki, Nathaniel Meredith
CIS Outstanding Student - B.S. Cybersecurity & Digital Forensics
Hassan Balhareth, Madison Maynard, Robert Seitz, Katherine Shannon, Reid Snyder
Communication & Organizational Leadership Service Award
Antonia Fama
Communication & Organizational Leadership Academic Achievement Award
Antonia Fama, R.J. Groscost, Jesse McCullough, Sean Nolan
Communication & Organizational Leadership Professional Focus Award
Phoebe Bowers, Nathaniel Breisinger, Ethan Morrison, Elizabeth Sarasnick
Social Sciences Endowed Scholarship
Grayden Jackson
Outstanding Student in Political Science Award
Maura Patterson
Outstanding Student in History Award
Emma Rametta
Outstanding Student in Economics Award
Samuel Berdine
Academic Media Center Leadership Award
Ally Yovetich
Student Media Leadership Award
Nathaniel Breisinger
Student Media Service Award
Hope Beatty
Academic Media Center Rookie of the Year
Zachary Jones, Anna Slaybaugh
Outstanding English Major in Writing Award
Peyton Jackson
Outstanding English Major in Literature Award
Andrew Komorowski
Thomas A. Marshall Memorial Scholarship
Melayna Pongratz, Mackenzie Wilhelm
Jan Kenton Memorial Scholarship
Mackenzie Hill
Outstanding Graphic Design Student Award
Keshaun Rice
Outstanding Cinema & Photography Award
Joshua Milteer
Outstanding UX-UI Major Award
Ronan Stark