Advertising Club Visits Top Pittsburgh Agency
Students get career advice during visit to Brunner.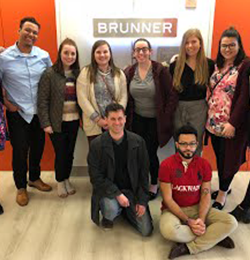 The Ad Club toured the offices of Brunner, a Pittsburgh ad agency, in April. The group met with three employees, who each discussed their professional roles. Those employees serve as copywriters, public relations specialists, and social media strategists within Brunner. The agency gained national acclaim for its award-winning 2017 Super Bowl commercial for 84 Lumber. 
"Getting an opportunity to visit an agency is an invaluable experience for our students," said Chad Wertley, assistant professor of communication and the club's faculty adviser.
"Learning about the day-to-day activities of professionals in various positions within an agency opens our students' eyes to how classroom activities connect to the real world, and the career path that best suits them. Students left the visit inspired and energized," he added.
Kayla Carbert, the Ad Club president, organized the visit, which included nine students and Wertley.