Dr. Ping Wang Receives Grant from the U.S. Department of Defense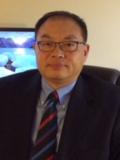 The Computer Information Systems (CIS) Department has received a new grant from the U.S. Department of Defense (DoD) Cyber Scholarship Program (CySP). The grant is to recruit cyber talent for the DoD cyber workforce and to enhance the national pipeline for qualified cyber professionals. The grant will support one selected CySP student scholar and faculty research on cybersecurity education and mentoring. The selected student scholar will receive support to cover tuition and fees, a living stipend, and textbook and computer allowance. 
Dr. Ping Wang is the Principal Investigator (PI) of this grant project.
Congratulations, Dr. Wang!