RMU Sentry Media Takes Top Honors In 2021 Society for Collegiate Journalists Contest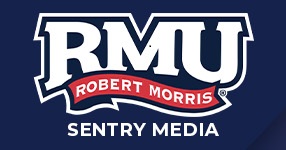 RMU Sentry Media and its TV and radio affiliates recently took away top national honors in several key categories and won several other awards as part of the Society for Collegiate Journalists' (SCJ) 2021 journalism competition.
Sentry Media staff members earned first-place recognition for overall excellence in the Online News Website category. RMU Radio's staff likewise won for overall excellence in the Internet Radio category.
Sentry Media staff also were honored with a first-place award for overall excellence in the Television Live Event Coverage category in recognition of their extensive presidential election night coverage this past November.
"Our students worked hard this past year, despite the limitations they faced with the pandemic, as they fully embraced our converged-media approach to student journalism here," said Timothy Jones, Ph.D., assistant professor of Media Arts and director of Robert Morris University's Academic Media Center, which facilitates converged-media-focused experiential learning opportunities for RMU's student journalists. "Their SCJ awards are well-deserved."
RMU Sentry Media and its student journalists also won the following:
Sentry Media staffers Megan Shandel and Nathan Galderisi took second place in the Photo Slide Show category for their coverage of a Donald Trump presidential election rally at Pittsburgh International Airport.
Staffer Tyler Gallo was awarded third place in the Multimedia Sports Story category for his story on RMU Coach Mike Iuzzolino's "journey from playing in the NBA to coaching at RMU."
Student Nathan Breisinger took a third-pace award in the Sports Feature Stories category for his story, "Jordan Timmons overcomes adversity, shines in new role at RMU."
Editor-In-Chief Garret Roberts received an honorable mention in News Photography for his photo of a Greater Pittsburgh Community Food Bank distribution effort at Pittsburgh International Airport.
Staffer Soundharjya Babu earned an honorable mention in the Multimedia News Story category for her story about "Pittsburgh mascots" skating with families at the Schenley Skating Rink.
RMU Sentry Media students are members of the RMU chapter of the SCJ, which is considered an American honor society for student journalists.
"SCJ promotes the best practices and ethical standards in reporting from schools," Jones said of the national organization and its student chapters. "While the opportunity for students to win awards for their hard work is exciting, we are especially proud of our students when they're recognized for both the skills and identities they'll need in their careers – central to the experiential learning offered here in the AMC."