Sentry Media Wins More Honors
Students earn Pittsburgh Black Media Federation award for story on coach Bernard Clark.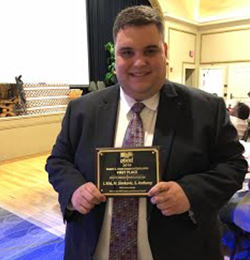 Three RMU Sentry Media students have won an award from the Pittsburgh Black Media Federation.
Ian Kist, Sam Anthony and Mike Simkovic were honored for their story about new Robert Morris University head football coach Bernard Clark. Kist wrote the story, Anthony was the photographer, and Simkovic was the videographer. 
The trio received the Robert L. Vann Award of Excellence in the Online Media/Sports Feature category.
"Sentry Media keeps proving that students at RMU deliver top quality journalism," said student media advisor Carrie Moniot.