Psychology B.S. (General Psychology)
Apply Today
The B.S. in Psychology with a General Psychology concentration provides students with an examination of many of the diverse subfields within the discipline. Students who choose this path can work with faculty mentors to tailor their studies to best meet their academic and career needs. For example, they can focus on forensic psychology, child or gender psychology, psychology of adjustment, or related topics in other academic programs.
Interested students in this course of study may be eligible for the Early Law School Admission Program.
Contact Information
Samantha Monda, Ph.D., NCC, CMPC
Interim Department Head, Psychology
monda@rmu.edu
412-397-6036
Stephen T. Paul, Ph.D. 
Professor of Psychology 
paul@rmu.edu
412-397-5416
4-Year Course Plan

Freshman Year, Fall

CSEN1020 ARGUMENT & RESEARCH
HUMA1010 HUMANITIES ART & MUSIC
HIST1200 U.S. HISTORY II
MATH1050 MATH REASONING & APPLICATIONS
PSYC1010 GENERAL PSYCHOLOGY

Freshman Year, Spring

CSCM1030 PUBLIC SPEAKING & PERSUASION
INFS1020 FUNDAMENTALS OF INFORMATION TECHNOLOGY
PSYC2800 APPLIED PSYCHOLOGY
SOCI1010 PRINCIPLES OF SOCIOLOGY
STAT2110 STATISTICS

Sophomore Year, Fall

CSCM2040 PROFESSIONAL COMMUNICATIONS
ECON1010 SURVEY OF ECONOMICS
PSYC3600 SOCIAL PSYCHOLOGY
PSYC3700 ABNORMAL PSYCHOLOGY
SCI CORE COURSE

Sophomore Year, Spring

CSCM2050 INTERCULTURAL COMMUNICATIONS
PSYC3200 PHYSIOLOGICAL PSYCHOLOGY
PSYC3450 COGNITIVE PSYCHOLOGY
RESTRICTED ELECTIVE
OPEN ELECTIVE

Junior Year, Fall

PSYC3250 SENSATION & PERCEPTION
PSYC3580 PERSONALITY PSYCHOLOGY
RESTRICTED ELECTIVE
OPEN ELECTIVE
OPEN ELECTIVE

Junior Year, Spring

PSYC3100 METHODS IN BEHAVIORAL RESEARCH
PSYC3530 OR PSYC3535 OR PSYC3550
ELIT CORE COURSE
RESTRICTED ELECTIVE
OPEN ELECTIVE

Senior Year, Fall

PSYC4813 PRACTICUM
PSYC4833 PSYCHOLOGY THESIS I
RESTRICTED ELECTIVE
RESTRICTED ELECTIVE
OPEN ELECTIVE

Senior Year, Spring

PSYC3810 INDUSTRIAL PSYCHOLOGY
PSYC4843 PSYCHOLOGY THESIS II
RESTRICTED ELECTIVE
OPEN ELECTIVE
OPEN ELECTIVE
Practicum Information

All traditional undergraduate students majoring in the social sciences must complete a practicum their senior year. This involves 120 hours of documented experience at an internship related to the student's field that has been pre-approved by the student's faculty mentor and the department head.

Participation in professional activities allows students to experience the work environment in their chosen field, make informed career choices, and enhance their employment credentials. These experiences reinforce the connection between professional and liberal learning through the application of classroom theories to actual occupational problems. 

Completing the practicum involves keeping a journal with daily entries and weekly reflections and a timesheet signed by the supervisor and writing a 12-page paper comparing and contrasting their experiences in the practicum with the theories and information presented in the social sciences coursework which was completed at RMU. It should also explain why the site was selected for the practicum and give any recommendations for future social sciences students about the practicum experience.

More details are available here.
Sample Courses:
These are some of the classes for students in this academic program:
Abnormal Psychology
Methods in Behavioral Research
Psychological Assessment
Communication Skills, Economics, Humanities, History, Sciences, etc.
Top Employers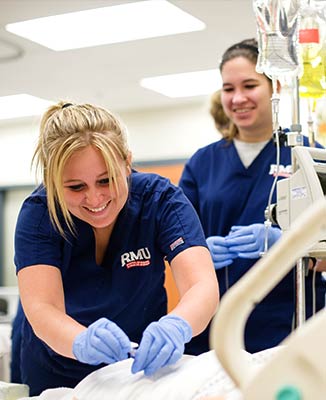 School of Nursing, Education and Human Studies
More than ever before, today's complex healthcare environment needs skilled clinicians,  expert communicators, and good people. Our students are about more than a major.
Visit School Site