Admissions Counselors
Amanda Beal
Associate Director of Undergraduate Admissions
Hometown: Champion, PA
Joined RMU: August 2014
Education: 
B.S.B.A with a concentration in Marketing from Robert Morris University (2014)
M.S. in Higher Education from Robert Morris University (2016)
M.A. in Executive Leadership and Management from Liberty University (2018)
My co-workers describe me as: Dedicated, reliable and organized
Hobbies: Reading, attempting new recipes and shopping at HomeGoods
What I like most about RMU: The fact that so many people on campus believe in you and your abilities. I would not be where I am today without the faculty and staff that I encountered on campus as a student.
Advice for prospective students: Find the best fit for YOU. Look for schools that have characteristics that are important to you and not just the name.
Counselor for: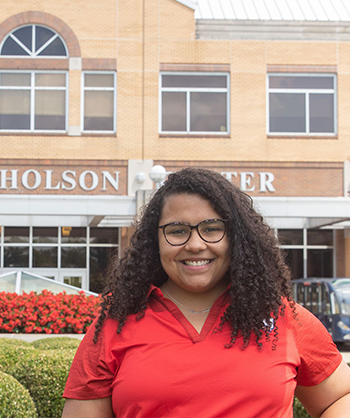 Caitlin Engel
Associate Director of Undergraduate Admissions
412-397-5218
Hometown: New Brighton, PA
Joined RMU: June 2014
Education:
B.S. in Public Relations from Slippery Rock University
M.A. in Student Affairs in Higher Education from Indiana University of PA
My co-workers describe me as: Reliable, understanding and charismatic 
Hobbies: As mom to two young daughters, I don't have many hobbies these days. When do I get a moment, I enjoy reading, watching movies and shopping. 
What I like most about RMU: The people! There is nothing like the students, faculty and staff at RMU. 
Advice for prospective students: Visit campus! The campus visit experience is a huge part of finding the right college or university. Websites, social media and items mailed to your home are helpful tools in helping you to identify fit but don't come close to a campus visit.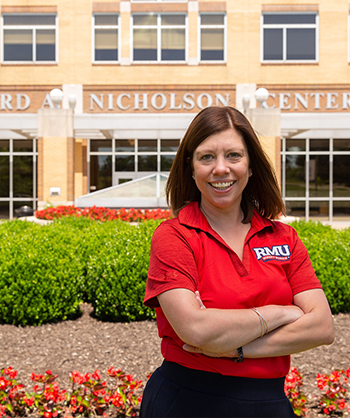 Melissa "Missy" White
Senior Freshman Admissions Counselor
Colonial Ambassador Manger
Hometown: Allison Park, PA
Joined RMU: January 2017
Education: 2016 Bachelors in Business Administration from RMU and 2020 Masters Degree in Human Resource Management from RMU.
My co-workers describe me as: Adventurous, Sincere, and Diligent
Hobbies: I love to travel and enjoy visiting the beach as much as I can. I love outdoor activities such as hiking, kayaking, and biking. I enjoy country music and attending concerts during the summer. I also love amusement parks and I'm always looking for a crazy new roller coaster to try out!
What I like most about RMU: I love the community here. There are very few universities that I have been to that have the same feel as RMU. From the faculty, staff, and students, everyone here truly makes you feel like family and I love getting to be a part of what makes this university so great!
Advice for prospective students: Take the time to visit the universities that you are interested in! The best way to know what school is a good fit for you is to come to the campus, meet the people, and see what it's all about!
Counselor for:
PA Counties: Armstrong, Bedford, Blair, Cambria, Centre, Clearfield, Clinton, Fayette, Franklin, Fulton, Greene, Huntingdon, Indiana, Jefferson, Lycoming, Tioga, Somerset
Pittsburgh Area schools: Bishop Canevin, Eden Christian Academy, Elizabeth Forward, Moon, Sewickley Academy, Quaker Valley, Upper St. Clair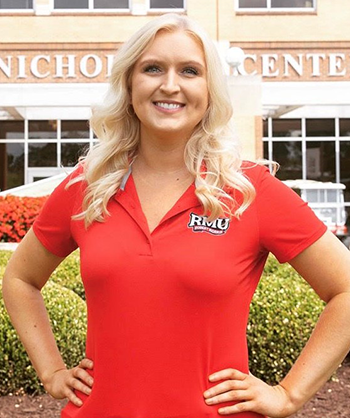 Carly Phillips
Freshman Admissions Counselor
Hometown: Harrison City, PA
Joined RMU: October 2019
Education: B.A. with a concentration in Advertising from Robert Morris University 2019, and Master of Science in Organizational Leadership from Robert Morris University (2021)
My co-workers describe me as: Dependable, Innovative, and Energetic
Hobbies: Singing, dancing, shopping (a lot), writing, drinking Dunkin' iced coffee, and traveling
What I Like most about RMU: There truly is something for everyone here. RMU provides students with endless opportunities to get involved on and off campus. As a former student, I am so thankful that I took advantage of getting involved because it lead me to meeting my best friends and created some of my most cherished memories.
Advice for prospective students: Be open-minded about the colleges you look at. Even if you know nothing about a school, take the time to learn something about it either by doing research or taking a tour. You'd be surprised how knowing nothing about a school could easily turn into spending four amazing years there, and then loving it so much that you want to work there. (Yes, that's about me.)
Counselor for:
States: Maryland, Virginia, Washington D.C.
Pittsburgh Area schools: Pittsburgh Public Schools, Carlynton, Chartiers Valley, Cornell, South Fayette, South Park, West Allegheny
Arli Swaney
Freshman Admissions Counselor
Hometown: Uniontown, Pa
Joined RMU: December 2019
Education: B.A. in Communication with a concentration in Journalism and a minor in English, Robert Morris University 2019
My coworkers describe me as: Driven, Passionate, and Kind
Hobbies: I enjoy lifting, going to music festivals, and writing on my fitness blog.
What I like most about RMU: RMU is my home away from home. The people around you will become like family, and they will push you to become the greatest version of yourself. 
Advice for prospective students: Visit different campuses! Touring a school opens your eyes to what campus life, students and professors are really like. Talk to as many people as you can and see if your values align with the university. The best way to determine if a university is a good fit is to see it for yourself! 
Counselor for:
PA Counties: Cameron, Clarion, Crawford, Elk, Erie, Forest, McKean, Mercer, Potter, Venango, Warren
Pittsburgh Areas schools: Aquinas Academy, Central Catholic, Cheswick Christian, Lakeview Christian, Montour, North Catholic, Oakland Catholic, Trinity Christian, Wilson Christian, Winchester Thurston 
Nate Goda
Freshman Admissions Counselor
Hometown: Hermitage, PA
Joined RMU: November 2020
Education: 
B.S. in Marketing with a minor in Technical Sales from Penn State University; The Behrend College (2020)
My co-workers describe me as: Energetic, Outgoing, and Dependable
Hobbies: Kayaking, hiking, traveling for food, and prop design
What I like most about RMU: The Robert Morris community is truly like none other. Faculty and staff will greet you with open arms, while fellow students are always reaching out to become a part of your journey. A positive environment is a powerful environment. 
Advice for prospective students: Never turn down an opportunity to learn something new. College is all about staying vigilant in your efforts to become the best future candidate. Take advantage of every opportunity to learn and continually diversify your knowledge base and skillset. You never know when those abstract know-hows will come back to aid you in your future. 
Counselor for:
States: Alabama, Alaska, Arizona, Arkansas, California, Colorado, Connecticut, Delaware, Florida, Georgia, Hawaii, Idaho, Illinois, Indiana, Iowa, Kansas, Kentucky, Louisiana, Maine, Massachusetts, Michigan, Minnesota, Mississippi, Missouri, Montana, New York, North Dakota, South Dakota, Nebraska, Nevada, New Hampshire, New Mexico, North Carolina, Oklahoma, Oregon, Rhode Island, South Dakota, South Carolina, Tennessee, Texas, Utah, Vermont, Washington, Wisconsin, Wyoming
PA Counties: Beaver
Pittsburgh Areas schools: Avonworth, Deer Lakes, Hampton, Highlands, North Allegheny, North Hills, Northgate, Pine Richland, Shaler, Sto Rox
APO/FPO/DPO students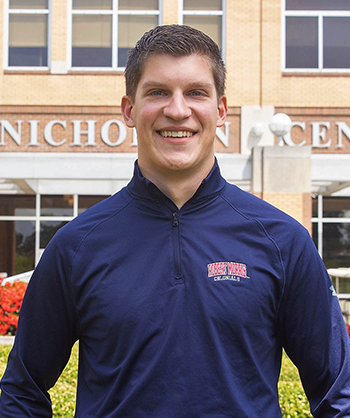 Nick Poilucci
Freshman Admissions Counselor
Hometown: Shaler, PA
Joined RMU: June 2021
Education: Bachelor of Science in Business Administration with dual concentration in Sport Management and Marketing from RMU in 2021
My co-workers describe me as: Friendly, Driven, and Witty
Hobbies: I love watching and playing sports in my free time. I especially love going and cheering on the Pirates, Penguins, and Steelers as well. I also enjoy listening to music, going to concerts, and playing guitar.
What I like most about RMU: I love the people that you meet here on campus. No matter who it is, they are always willing to go the extra mile to help you in whatever it may be. They truly care about your success and will be there to support you every step of the way.
Advice for prospective students: Look for the best fit for you. Every school offers something slightly different but find what will work for you. Make sure you can envision yourself on campus and as part of the community.
Counselor for:
States: West Virginia
PA Counties: Adams, Berks, Cumberland, Dauphin, Juniata, Lebanon, Mifflin, Montour, Northumberland, Perry, Snyder, Union, Westmoreland, York
Pittsburgh Area schools: Baldwin, Bethel Park, Brentwood, Ellis School, OLSH, Springdale, St. Joseph, 
Transfer & Online Counselors
Melissa Eiker
Admission Counselor, Veterans Admissions Specialist
412-397-5211
Hometown: Flint, MI
Joined RMU: July 2020
Education:
Bachelors of Arts in English & Psychology from Michigan State University
Master of Arts in Educational Leadership for Higher Education/Student Affairs from Eastern Michigan University
Hobbies: Reading, Crafting and Hiking
On the weekends: I can be found at RMU Island Sports watching my son play hockey, walking my two Goldendoodles, or relaxing on the couch with my husband watching sports/movies 
Counselor for:
Veterans Admissions Specialist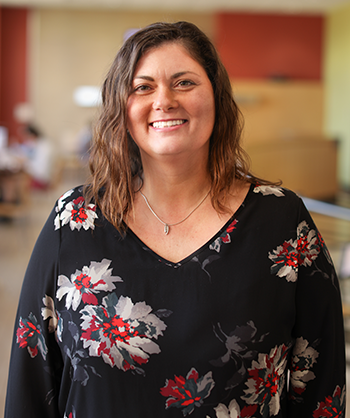 Diane Fatigati
Admissions Counselor, Online, Transfer and Special Programs
Hometown:  Pittsburgh
Joined RMU:  20 years ago!
Education:
Associate's in Administrative Services and Law
Bachelor's in Administrative Management
Master's in  Business Education
Hobbies: Bible Study, traveling, and working out
On the weekends:  Spending time with my family, friends, and dogs!
Counselor for:
Online, Transfer, and Special Programs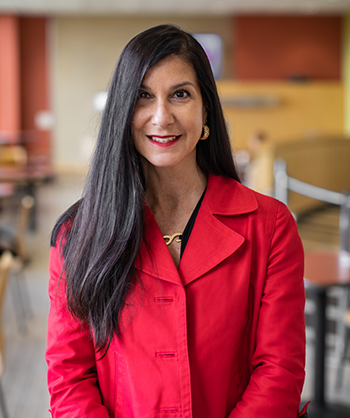 Nicole Mazine
Admission Counselor, Transfer & Online Programs
412-397-5224 
Hometown: Center Township, PA
Joined RMU: September 2015
Education: 
B.S. in Psychology from Penn State University in 2012
M..S. in Organizational Leadership from Robert Morris University in 2019
Hobbies: baking, reading, and traveling
On the weekends: I can be found hangout out with my dog, family friends, and baking
Counselor for:
Transfer & Online Programs