Graduate Admissions Counselors
Hebist Asfaw
Graduate Enrollment Manager
412-397-5228
Hometown: Addis Ababa, Ethiopia
Education: BB.S. in Public Health from Slippery Rock University  in 2018 and MBA from Slippery Rock University in 2020
Joined RMU: April 2020
Counselor for: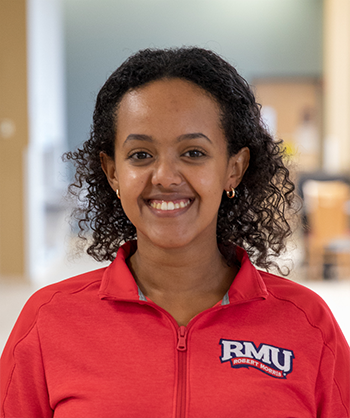 Emily Wilson
Graduate Enrollment Manager
412-397-5204
Hometown: Pittsburgh, PA
Education: Bachelors of Arts in English Literature and Creative Writing from Allegheny College
Hobbies:  I love being with friends, trying new coffee shops, cooking, reading, traveling, and hiking. 
What I like most about RMU: I love the RMU community. Our students are driven and passionate, and all of our staff and faculty are dedicated to helping them succeed. As soon as I joined the Admissions team, I felt welcomed into the RMU family, and I am continually blown away by the enthusiasm and energy surrounding this campus.
Counselor for:
Graduate students, 4+1 Accelerated Masters students