Alum of the Month: Amy Henley Davis '97
The new chief financial officer at Michael Baker has had a surprising variety of career experiences.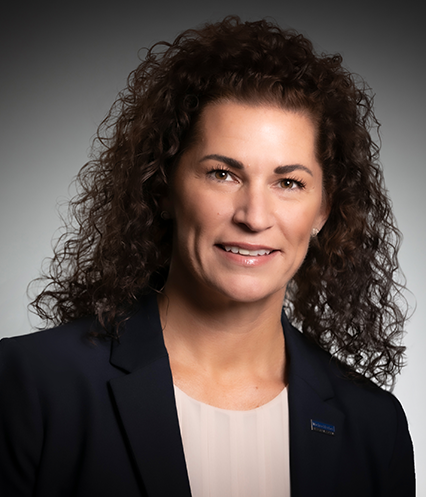 As the new chief financial officer of Michael Baker International, Amy Henley Davis '97 can bring to bear not only her expertise in accounting, but a wealth of experience from several different career situations. That includes not one, but two jobs working with animals.
Amy's resume includes chief operating officer at the National Aviary—where she says the march of the penguins was her favorite job perk—and vice president for corporate finance with a company that owned three horse racing tracks and casinos. Her resume also includes stints as global corporate controller for Dynavox and most recently GNC Holdings, where she was vice president, corporate controller, and treasurer for three years until 2018, when Michael Baker recruited her to be chief accounting officer, controller, and treasurer.
Now, as executive vice president and chief financial officer at Michael Baker, she heads a finance team of more than 100 people and oversees all financial operations of the company. The Pittsburgh headquartered engineering and consulting firm is involved in design, planning, construction management and other aspects of major infrastructure projects throughout the country.
"People sometimes think to be in a company 20 years is the right place to be. For me it was the opposite," Amy says. "I value people who have a multitude of various experiences. They're well-rounded, they learn how to deal with people and different situations, and how to build strong cross-functional teams. Learning how to embrace change is an important part of becoming successful."
Amy's first job after graduation was staff accountant for a public environmental remediation company in Monroeville. Within a few years she had become the corporate accounting manager, and then Amy took a position at Ernst & Young, where she spent six years, progressing to an audit manager, before she took the opportunity at the aviary.
The Harmony, Butler County, resident is half of a Colonial Couple. Her husband, Brian Davis '97, was an accounting manager and captain of the soccer team. Now he is a business teacher at Pine-Richland High School. They met in class, Amy says, where she would sit in the front row while he watched from the back of the room. While she admits to being an eager student, she says it wasn't because she loved math.
"People laugh when I tell them I need a calculator," she says. "Really it's about theory, and I always got the theory and what it is trying to accomplish."
Amy is a mentor for Strong Women, Strong Girls and a mom to two teenage children, Andrew, 17, and Katie, 15. She and Brian enjoy golfing and attending their children's sports events in ice hockey, tennis, and cheerleading.