Alum of the Month: Brad Downs '99
The Baltimore Ravens senior VP is also half of a Colonial Couple with Amy Ebersole Downs '99.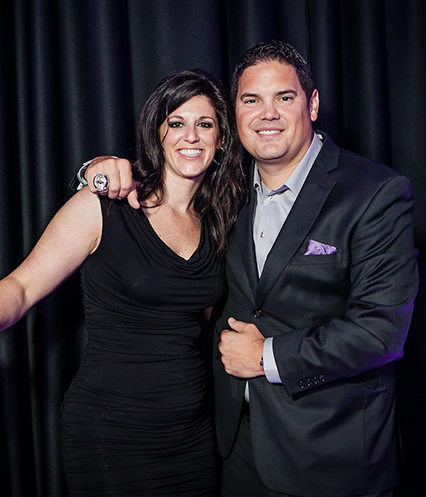 As senior VP of marketing for the Baltimore Ravens, Brad Downs '99 gets to put his Sport Management degree to use on a daily basis. 
"One of the things I really enjoy about the sports industry is that there aren't many typical days," says Brad. "It's a dynamic environment where we engage with our fans 365 days a year."
Brad started out as marketing and promotions manager for the Ravens in 2002 and worked his way up. Today he enjoys sharing his experience and knowledge with prospective students and other members of the RMU family, whether by giving advice to a student about to graduate or by being an enthusiastic participant in Sport Management career events.
Recently Brad got an email from a student he met at an RMU admissions event in Baltimore a couple of years back. In it the student, who was accepted into RMU's accelerated M.B.A. program, said the advice Brad gave him that night played a major role in his college decision.
"I think it's extremely important to give students insight as to how the sports business works, the importance of networking, and guidance in breaking into the field, all while being prepared for the competitiveness of the industry," Brad says.
RMU's emphasis on internships and assistance in placing interns was influential in Brad's career success, he says. He is proud to offer similar opportunities through the Ravens organization, where they offer two post-graduate, full-time internships in one-year terms.
"Our most common opportunity is around training camp, which we're hopeful to return to this summer. You really get a crash course on several departments and their functions around the team."
 
Brad says the best piece of advice he can give to a student is to have a vision of what you want to do and where you want to be. 
"Think about your dream job situation," he says. "As you learn more through classes and experiences, keep revising that goal. Then find someone in a similar role or in a similar situation and ask them if they'd be willing to take 15 minutes to answer some questions.
"Find a way to stand out," he adds. "It's a good habit to develop early."
Brad is half of a Colonial Couple with his wife, Amy Ebersole Downs '99. The couple have two boys, Zachary and Carter.