Alum of the Month: Gerry Delon '93
Sports fan is CFO of the video company that shot last month's golf showdown between Peyton, Tom, Phil, and Tiger.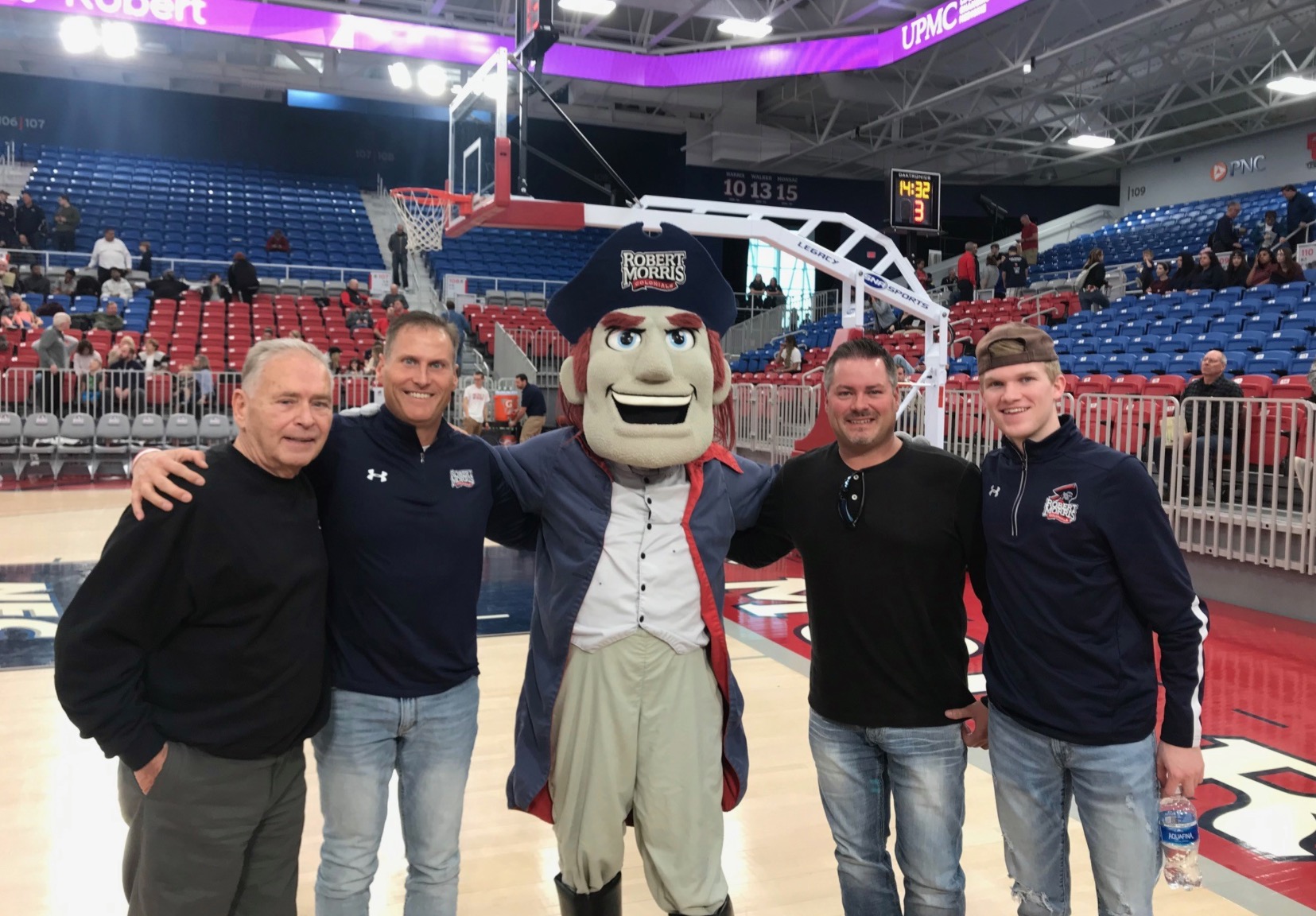 For golf fans desperate for televised competition, the charity match featuring Tiger Woods and Peyton Manning versus Phil Mickelson and Tom Brady the weekend before last came as a blessing and a relief. But few of them could have been more delighted than Gerry Delon '93. 
As chief financial officer of NEP Group, Gerry was eager to see his company get back to doing what it does best – helping fans watch big sporting events on television. The Harmar-based company supplies TV trucks, cameras, lenses, other production infrastructure, and technical expertise for sports and other major event broadcasters, and the showdown at Hobe Sound, Fla., was its first big telecast since Covid-19 caused a shutdown of spectator sports.
"In an absolute dollar sense, it wasn't the largest event we ever did — far from it. It wasn't even the most meaningful in terms of the outcome," Gerry says. "But in terms of what it meant to a lot of people, what it meant to our business, and what it symbolized, it was a pretty big deal."
More than 6 million viewers tuned in to TNT to watch "The Match: Champions for Charity" on May 24, the largest cable TV golf audience ever recorded. The benefit event raised $20 million for Covid-19 charities as the duo of Woods and Manning defeated Mickelson and Brady.
It was a good omen for NEP, which is gearing up for the first PGA tournament of this strange season. "It speaks to people's appetite for sports, and a return to normal," says Gerry. "I'm cautiously optimistic that it leads us back."
His company traces its beginnings to the 1970s, before the era of cable TV sports networks, when it was a single TV truck delivering closed-circuit telecasts of Pitt and Penn State away football games to viewers back on campus. By the 1980s, the company was providing TV trucks to the major networks for their sports coverage, and it eventually expanded to its own TV studios and large LED screens for outdoor events. The Daily Show is filmed in an NEP studio in New York, as is the in-house broadcasting for Major League Soccer.
Gerry joined the company in 2004, after several years as an auditor at Ernst & Young. Since his arrival, originally as controller, NEP has expanded nationally and globally through some 30 acquisitions and mergers. The year he arrived, revenues were about $90 million; they passed $1 billion in 2017 and were on target for $1.5 billion this year before coronavirus threw business projections into turmoil.
His college career began in Grove City, but Gerry transferred to RMU his junior year and earned his diploma in accounting. Sports were a big part of his day even back then. "I spent many an afternoon in John Jay Center playing basketball," he recalls. Golf is his preferred game nowadays, though he admits his skills are not ready for a national TV audience. "I would have looked more like Tom Brady on the front nine when he was shagging balls into the woods."
The Delons are a legacy family: Gerry's father, Chester Delon '74, and brother, Michael Delon '96 M'04, are also alumni, and his nephew Jake is a current student. They all attended men's basketball games this season as the Colonials won their ninth NEC championship, and Gerry says though his work has brought him to Olympics, Super Bowls, and World Cups, he is disappointed that the coronavirus-triggered cancellation of the NCAA Tournament meant he didn't get to watch the Colonials play in March Madness.
Community service and giving back are important to Gerry. He is the president of Humane Animal Rescue, and was instrumental in the 2017 merger of the Western Pennsylvania Humane Society and the Animal Rescue League that led to its creation. He also joined the RMU Board of Trustees in 2019.
"The school was there for me when I needed it and I've always had a bit of a soft spot in my heart for RMU," he says. "I like what it represents. There's an extraordinary number of RMU alumni in the Pittsburgh business community."