Alum of the Month: Helen Goodman '74
The retired event planner caps her successful career by sponsoring a conference room in the new UPMC Events Center.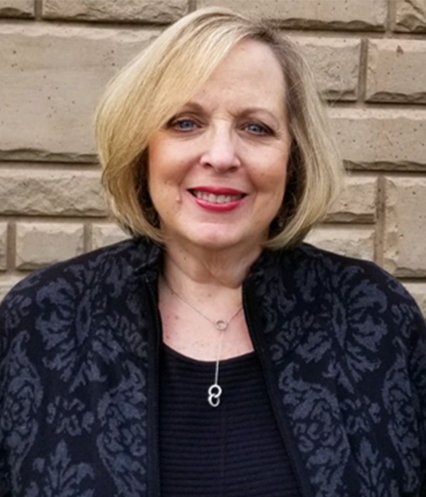 When Helen J. Goodman '74 came to Robert Morris to study, she brought her prize possession, a 1968 yellow Austin-Healey two-seater convertible. It was a great car to have for college, she says. Her friends certainly agreed.
"We would see how many people we could get into the car," says Goodman. "Then someone said, I dare you to drive down the sidewalk (in front of Hale Center), and I did. We were serious students, but we knew how to have fun."
Retired in 2018 after a distinguished career in conference management and event planning, Goodman, of Squirrel Hill, recently returned to campus for a tour. Besides seeing the old familiar classrooms and residence halls, she visited the new UPMC Events Center. While there, she decided to sponsor one of the building's boardrooms, which will be named in her honor.
"The education I received at Robert Morris gave me the foundation for the rest of my career," says Goodman. "This boardroom is a reflection and a recognition of that fact."
After graduation, Goodman worked for the director of the Asian studies program at the University of Pittsburgh, and later spent a month traveling in Japan. Her next job was in the director's office of the Carnegie Museum of Art, where she assisted with events, galas, and exhibition openings. 
Then Goodman took a job offer to join the newly created Pittsburgh Technology Council as only its second person on staff. As the membership organization grew rapidly over the next decade, she handled hundreds of events, and eventually was subcontracted by the Pennsylvania Department of Commerce to manage a 5-day annual national conference in Pittsburgh for Inc. Magazine. As deputy managing director of the conference, Goodman sold dozens of sponsorship packages, planned and staffed 20 executive-level special events, and managed a staff of 60 volunteers.
The experience she gained from that event led Goodman to start her own business, Event Resources LLC, in 1993. In two decades, she consulted and managed more than 500 events for her clients, with attendances ranging from 100 to more than 5,000. Goodman also took a 5-year hiatus from running her own company to be the conference and events director for an association in the energy sector.
She and her husband, Bill Reight, share a love of travel, and Goodman still has an affinity for foreign sportscars, though this year she reluctantly sold her '74 Porsche. Now she is looking forward to the first opportunity to showcase her alma mater's new events center —  and her boardroom — to friends, former classmates, and her many colleagues and associates in the meetings and event business.
"Professionally, I recognize it's a perfect venue for a wide variety of meetings and events in a beautiful setting," Goodman says. "Personally, I know I will also enjoy doing some entertaining there."