Alum of the Month: Jared Thomas '08
The BNY Mellon executive never misses a Colonials men's basketball game.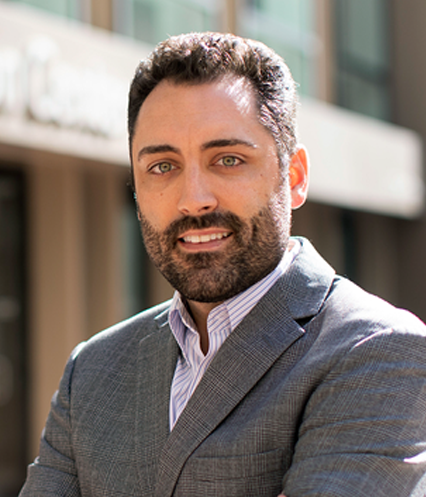 "When it comes to my career, the public speaking classes I took at RMU have helped tremendously."
Colonials basketball games are a family affair for Jared Thomas '08. The former social science major started attending games his freshman year with his dad. They kept it up after graduation, witnessing many big games together, including the legendary Kentucky NIT upset in 2013.
Now Jared is a member of the 1921 Club with his wife, Jenna, and they sometimes bring their children, Ruby and Theo. When Pitt comes to the Peoples Court for the home opener next week, Jared will be sitting courtside with his brother, Kyle.
"When you've been going for that long, you develop a sense of community," Jared says. "The same folks I see now at games are the people I met in college. It's nice to have those people around — it's almost like the season is a 4- or 5-month family reunion."
Jared originally studied to be a history teacher, but became interested in business halfway through college. He took an internship in sales and marketing at a graphic design firm. "That's where I met my wife," he says. "She was a graphic designer there. I tease her that she was dating the intern."
The Munhall native played goalkeeper for his high school varsity soccer team, and walked on as a placekicker for the Colonials his freshman year. Jared then kicked for a string of professional arena football teams, including the Steubenville Stampede, Pittsburgh RiverRats, and Canton Cougars, until his obligations as a new father got in the way of 4-day bus trips to away games in Mississippi.
He worked as a financial specialist for a small wealth management firm in town, then moved to PNC Bank, where he had a job in capital markets, negotiating the sale of distressed commercial assets with investors. That caught the eye of another bank in town, and Jared went to BNY Mellon to be vice president of its office for recovery and resolution planning.
This summer brought a promotion at BNY Mellon, to vice president and head of risk for wealth management. Now Jared's job is to identify and guard against potential operational risks, though like his previous job, much of the work involves designing presentations on complex subjects to deliver to senior and executive management.
"From 2012 until now, I've been actively speaking to large groups or people in high profile positions as well as regulatory agencies," he says. "It's gaining that level of comfort, the confidence that you have knowledge in the subject matter, and a lot of that came from the public speaking classes I took at RMU."