Alum of the Month: Jodi Vasalani '92
Managing systems upgrades for nuclear power plants is challenging work, so Jodi likes to reward herself with travel.
Back in 2010, Jodi Vasalani '92 was traveling in Ireland with the RMU International Tour when she came across a familiar face: Dan Rooney. The late Steelers owner also was the U.S. ambassador, and the group went to his residence in Dublin.
"I don't know what was more special for the Pittsburghers in the group," says Jodi, "the opportunity have tea at the ambassador's residence with traditional Irish stories and music, or spending time with the owner of the Pittsburgh Steelers."
Ireland is just one of seven countries Jodi has explored with other RMU alumni and friends on the regular tours. She's also visited France, Italy, Spain, England, Czech Republic, and Hungary. The 2011 trip to France was probably her favorite, primarily because of their visit to Normandy, which included stops at Omaha Beach, Pointe du Hoc, and the American cemetery.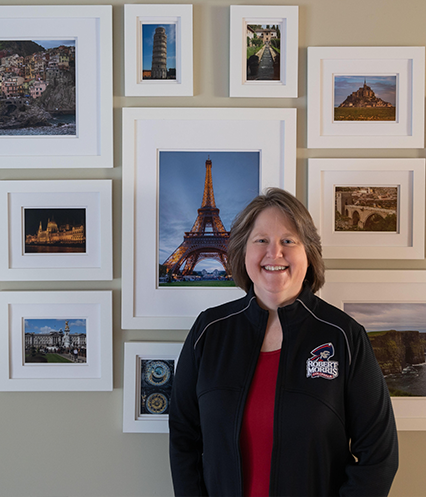 "A member of our tour group had a relative who'd been killed on Omaha Beach and is buried at the cemetery," says Jodi. "Seeing the rows upon rows of headstones was unforgettable. It was a real honor to witness the ceremony that the cemetery does for family members of those who are buried there. There wasn't a dry eye among us."
When she's not traveling the globe, the former management major now works as a project manager with Westinghouse Electric, overseeing projects to upgrade instrumentation and control systems for domestic nuclear power plants. Jodi is also responsible for overall contract implementation, including scope, schedules, and budgets, as well as working directly with the company's engineers and customers.  
As for her next international adventure, Jodi says she's hoping to take part in the next RMU international trip.