Alum of the Month: Martin Edwards D'20
Think your 2020 has been busy? This retired Air Force vet also got his doctorate and a new job working with the Space Force.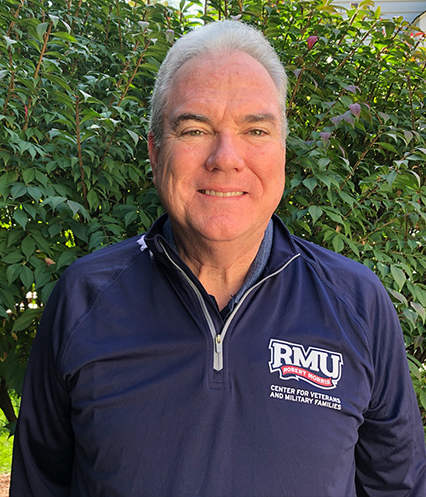 When Martin Edwards D'20 looks back on this unbelievable year, he will be able to give it a more positive spin than most. For the retired Air Force lieutenant colonel, 2020 is when he got his doctorate and took a new job helping to build up the new U.S. Space Force.
Edwards is a principal systems specialist with LinQuest, a northern Virginia defense contractor. An expert in strategic development and acquisition and process analysis and reengineering, he will bring those skills to assist the newest branch of the military, which spun out of the Air Force in December.
"It's an opportunity that, in all honesty, I think my doctorate with RMU might have given me a leg up," Edwards says.
He made the move this year after 13 years working as a business analyst at MITRE Corp., a federally funded research and development organization in McLean, Va. The last three years at that job were quite busy, since Edwards was also commuting to Moon Township on weekends to join his cohort in the doctoral program in information systems and communications.
Edwards says he chose RMU because of the Center for Veterans and Military Families and the support it provides for those with a military background.
"When you live in northern Virginia and drive four and a half hours to go to school on the weekends, you don't have time to spend hunting down 'How do I get this fixed?'" he says. "If I had anything that was ever causing a question, I would call the center, and wow, it was phenomenal how quickly they solved the problem. As a veteran who spent over 22 years in the military, having that kind of support from a team was very reminiscent of my years in the service. It's all about the team."
Edwards also credits the support of his wife, Sharon, and his strong Christian faith with keeping him on track. His dissertation topic was more personal than is suggested by its title, "Factors Influencing the Adoption of Autonomous Vehicles by the Elderly in Suburban Environments." The motivation, Edwards says, was his father, who is also a retired Air Force officer and is still driving in Tampa at the age of 87.
Earlier in life, Edwards planned for a civilian life. He studied chemistry and was a quality control worker in a gunpowder factory in Florida for three years after college. But he decided that career path required too much time away from family, so he joined the Air Force and was commissioned as a communications officer working with computer systems.
This also involved travel, but the family came along. Martin, Sharon, and their young daughter spent eight years in Europe — four in England, four in Germany, and a lot of weekends together sightseeing across the continent — while he worked with NATO.
Now Edwards spends a lot of time in his woodworking shop, turning ink pens and other objects on the lathe. "I built a changing table for my granddaughter," he says proudly.