Alum of the Month: Matt Alvarez '05
Emmy-nominated journalist comes home to Pennsylvania for the evening news anchor slot at WTAJ-TV Altoona.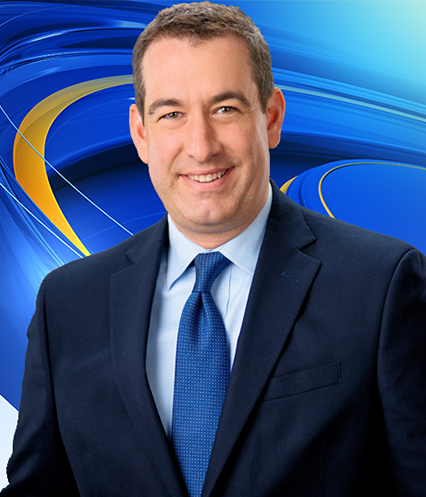 After 15 years working in TV in stations across the country, Matt Alvarez '05 has made it back to his home state of Pennsylvania just in time to see the leaves turn.
Matt became the co-anchor of the evening news broadcast at WTAJ-TV in Altoona in August, and already the Harrisburg area native is taking advantage of fall to enjoy his favorite pastime, hiking. Last weekend it was Kinzua Bridge State Park, where Matt surveyed the valley from a tall railroad trestle, and soon he is hoping to stargaze on a pitch-black night at Cherry Springs State Park.
"This is my first time in the area, and I didn't know it was so gorgeous," he says.
When Matt came to RMU, he harbored hopes of playing quarterback for the Colonials, who recruited him after seeing tapes of him leading the offense at Red Land High School. After watching from the bench as the third-string signal caller, Matt decided to focus on making tapes of himself for a broadcast news career. The communication major found he was comfortable around a microphone, such as the night he was ring announcer in a packed John Jay Center auditorium for Fight Night boxing matches.
Since graduating, Matt's TV journalism career has taken him to Colorado, Columbus, Nashville, and New Jersey, where his investigation into lax security at the Newark airport earned him a nomination for an Emmy award. Recently he branched out into live interviews on Instagram, freelance hosting work and social media videos, but Covid-19 cut into his business.
The anchorman job in Altoona is Matt's first behind the desk, rather than in the field as a reporter, and he is already enjoying the opportunity to connect with viewers and tell stories while letting his personality shine through. Now that he's back in Pennsylvania, Matt hopes to make "a little memory lane trip" back to his alma mater soon.
"I believe that life is a classroom, and in that classroom I've learned a lot," he says. "I'm happy to have taken this new path."