Alum of the Month: Rochelle Stachel '91
Starting her own construction inspection business wasn't easy, but Rochelle never shies away from a challenge.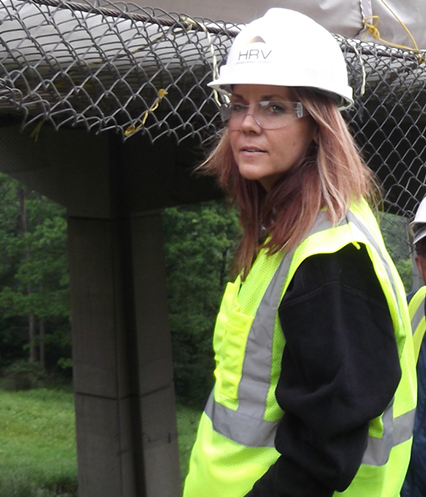 Rochelle Stachel '91 credits her father for an entrepreneurial spirit that led her to leave a stable corporate job and start her own quality assurance inspection company. The founding of her company, as we will learn, was neither whimsical nor serendipitous.
Her Moon Township firm, HRV Conformance Verification Associates, delivers construction management and quality assurance inspection services across the nation and overseas. HRV's over 150 employees monitor the fabrication of components and construction of numerous projects for the transportation, rail, oil and gas and water and wastewater industries to ensure materials and projects meet owners' specifications. 
On the morning of September 11, 2001, Rochelle was on a plane flying for business, which made her think deeply about her legacy had she been in one of the doomed planes. She began strategizing, putting together a business plan, and reached out the one person she thought would make an ideal business partner — her ex-husband, Robert.
The two grew up together in Robinson Township, and married while she was still attending the University of Pittsburgh, majoring in industrial engineering. With Robert transferring to Baltimore for work and Rochelle pregnant with their first child, they decided that she should put college on hold to raise their family. Eventually, they returned to Pittsburgh, and both enrolled at Robert Morris University, Robert to earn an M.B.A. and Rochelle to finish her bachelor's degree with a shift to information technology and accounting. Their two daughters, then in elementary and junior high school, attended her RMU commencement ceremony.
"They seemed so proud of their mom, and I wanted to be a good role model to them," Rochelle says. "Hopefully, I made a small impact on their passion for a strong education, which led to their successful careers. Our daughter Jennifer is an orthodontist with a practice in New York City, and our daughter Kara is an attorney with her own firm in Ft. Lauderdale, Florida." 
Fast forward a decade from her 1991 graduation from RMU. Rochelle was traveling extensively for one of the "Big 5" accounting firms, and Robert was serving as a vice president for a small engineering company. Then, 9/11 and the sale of the small engineering firm for which Robert was working became the impetus for Rochelle to strongly pitch the idea to Robert that, with her handling the business side and him as the technical expert, they could start their own company of which both could be proud. 
"During our corporate careers, we were disillusioned with the level of focus on the next best project or the bottom line instead of the clients we served," continues Rochelle. "We both had the entrepreneur spirit, but the desire to try to bring back the old-fashioned way of doing business drove our decision to move forward with creating our business." 
This spring, Rochelle added a new challenge to her already full slate of commitments by joining the RMU Board of Trustees in May. Because of the Covid-19 pandemic, she has yet to attend a meeting in person in the Trustees' conference room. Though it may be a while before things return to normal on campus, Rochelle says she is honored to be part of such an accomplished board and eager to help make a contribution to the university's future growth.
She believes her diverse education and experience prepared her to take the leap to start a business. "I have a soft spot for Robert Morris," says Rochelle. "Success must be shared; it is important to give back. My hope in joining the RMU Board of Trustees is to have a positive impact on the education and preparation of future generations; of the future workforce, as well as future entrepreneurs and leaders."