Alum of the Month: Tim Jarocki '02
The Tampa Bay Buccaneers director of team operations saw his work pals win a Lombardi.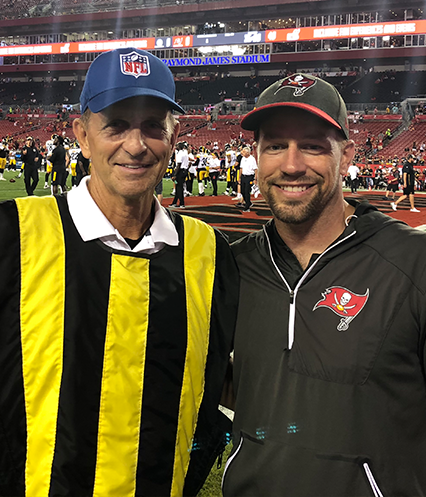 While Tom Brady was leading the Tampa Buccaneers to a 31-9 victory in Super Bowl LV, Tim Jarocki '02 was busy loading bottles of champagne into the players lockers and helping to set up the post-game meal. As director of team operations for the Buccaneers, Tim also had the job of handing out Super Bowl LV Champs t-shirts and hats.
"Once the clock hit zero, we got them to the owners, the coaches, the general manager and the players on the field," Tim says. He also donned the championship merchandise himself but didn't have much time to join in the celebration. "I had to focus on the owners, coaches and players, getting what they worked so hard for."
On top of the Super Bowl run, Covid-19 restrictions made 2020 a logistically complex year for the man in charge of details. "When I was assigning the seats on the planes, I had to split everyone up in a way so that all our quarterbacks weren't next to each other, just in case one of them was positive. I spread out the offensive line so the left tackle was in the front right of the plane and the right tackle would be in the back left."
It all paid off in the end. The Buccaneers won their second Lombardi Trophy, and Tim and the team recently got to go to the White House for the traditional congratulatory reception.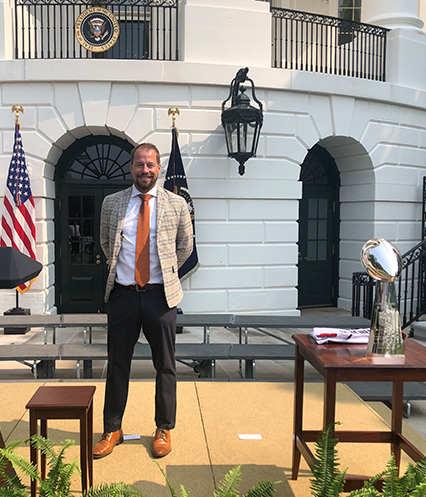 Tim grew up Greensburg as a devoted Steelers fan and a frequent visitor to their training camp in nearby Latrobe. At Robert Morris University he received a track and cross-country scholarship and earned a B.S.B.A. in sport management, which taught him both business and good communications skills. Tim's first job with a professional sports team was a marketing position with the Steelers.
He joined the Buccaneers in 2005, and while he still keeps Pirates and Penguins mementos in his office, there isn't any Steelers stuff besides a picture of him and his dad at Super Bowl XL. "Everybody knows Pittsburgh people are loyal to their roots. It's just that you don't run around screaming about your rival team when you're in the building," he says.
If the Steelers and Buccaneers played against each other in a Super Bowl, who would Tim root for? He says he would have to pick his current employer. "I have been here for so long. The Buccaneers are like family."