Alum of the Month: Tom Burman M'91
The Wyoming AD joins the College Football Playoff Selection Committee as President Howard's term ends.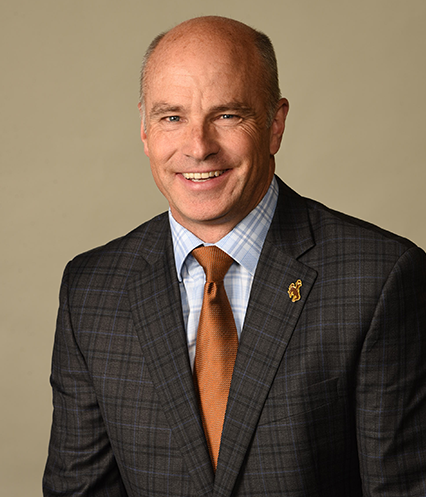 The College Football Playoff Selection Committee has another Colonials connection. Tom Burman, athletic director for the University of Wyoming and an alum of the M.B.A. program, was named to the ranking committee in January just as RMU President Chris Howard finished his 3-year term.
Burman, one of three new committee members, has been Wyoming's athletic director for 14 years. He has led more than $140 million in fundraising projects at the university, including the Mick and Susie McMurry High Altitude Performance Center, which opened in 2018. To reduce the stress of training at high altitude — the university in Laramie is on a high plain 7,000 feet above sea level — the new facility features a pressurized chamber that allows athletes to work out at simulated lower altitude conditions.
A native of Laramie, Burman returned to Pittsburgh last spring to watch the Cowboys compete in the NCAA Wrestling Championships at PPG Paints Arena. He and Howard met for dinner during that visit and talked about the Mountain West rivalry between Wyoming and Air Force, where Howard played football.
Burman graduated from the University of Wyoming with a business degree and discovered RMU while looking for an M.B.A. program with a sport management focus. When he was offered a job as a graduate assistant to help finance his graduate education, he enrolled and drove the 1,400 miles east to Moon Township.
Professor Dave Synowka even helped arrange an apartment for Burman to rent in Crafton. But when Burman arrived, he couldn't find the address Synowka had given him.
"This was pre-GPS in those days," Burman says. "Eventually I gave up and stopped at a Domino's pizza. I ordered a pizza to be delivered to the address Dave gave me. The guy said, 'Wait a minute, you're here.' And I said, yep, just tell me what car is delivering my pizza and I'll follow it. That's how I found the place."
During his studies, Burman also worked in the athletics department at Robert Morris. He recalls watching the men's basketball team make it to two straight NCAA Tournaments and nearly upset Kansas in the first round in 1990. At the old Sewall Center, Burman says, he did "everything from marketing and promotion to game advance ticket sales."
After RMU, Burman worked in sports marketing for the LPGA and NHL before moving back to college athletics. Aside from Wyoming, he also has worked in athletics for the University of Idaho and Portland State. He also served for six years on the NCAA academic cabinet, helping to set policies and rules for the education of student-athletes.
Classroom lessons such as analyzing financial statements and understand business trends have served Burman well in his career, he says. "I learned a lot of that from my business background and M.B.A.," he says. "In athletics we run a $45 million operation here at Wyoming, and almost $30 million of it is self-generated though development, ticket sales, corporate sponsorships, and media. So you've got to have a good feel for business."