Alumni Success: Madison Heidenreich '21
After she won a marketing contest sponsored by Pitt Ohio, the company also offered her a job.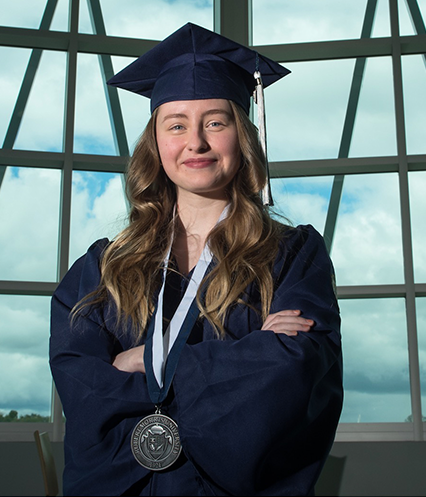 Winning first place in the RMU Center for Sales Excellence Annual Collegiate Sales Competition turned out to mean more than just a celebratory moment for Madison Heidenreich '21. It also led to a job offer for the North Fayette Township native, who just graduated with a degree in marketing.
Sponsored by Pittsburgh-based trucking company Pitt Ohio, the day-long sales competition challenged 13 students from Robert Morris, Old Dominion, Slippery Rock, West Virginia, and Dayton universities to build a strategic sales pitch for a fictional buyer. Using a case study they were provided, students had to determine the buyer's pain points, come up with a solution, and then negotiate the investment price of the solution with the buyer.
The competition's judges included top sales executives and directors from companies like FedEx, ADP, Beemac Logistics, AWS, and Pitt Ohio. Four of the companies also had job offers for Madison, and a few weeks after commencement, she started as an account manager at Pitt Ohio.
"When I set my mind to something, I always feel confident I'll achieve my goal. I was surprised for sure, but I also knew how hard I'd worked for it," Madison says.
Madison transferred to RMU after two years at Community College of Allegheny County. At RMU she took part in two internships, first as a marketing and development intern for Every Child, where she helped with event planning, vendor management, and general outreach, and then as a technical recruiter for Future Technology Staffing, where she redesigned their logo, created their new FTSi.Tech website, and helped them grow their digital presence. She also worked several part-time jobs, and because of her determination and a number of scholarships she was awarded, she was able to graduate debt-free.
"I'm so excited to be in a professional environment and grow with really good people who have a lot of experience in their field," says Madison. "I chose Pitt Ohio because of the culture. It's a large company with a small feel that will allow me to grow and learn as I begin my career. Honestly, I couldn't be happier."