Alumni Success: Nolen Keeys '18
The former president of RMU's chapter of the National Society of Black Engineers will earn his Ph.D. at CMU.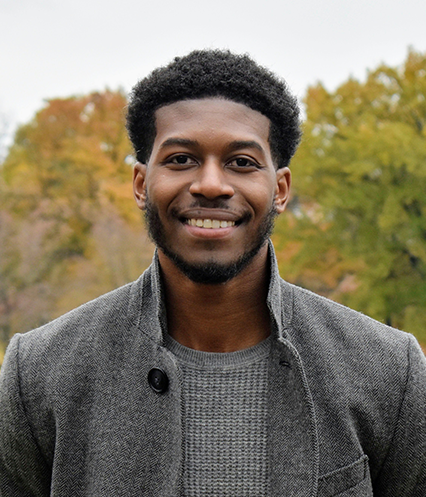 Since he was young, Nolen Keeys has planned to become a doctor and pursue a career in medicine. Now he's one step closer to achieving that goal — though in a slightly different way than he once imagined.
Nolen, who earned his degree in biomedical engineering at RMU, is now studying for his master's degree in the same field at Carnegie Mellon University, doing research with sensors used for orthopedic analysis and treatment. Recently he accepted an offer from CMU to continue his research there and earn a doctoral degree.
So it will be a Ph.D., not an M.D, for Nolen. A graduate research project with spinal motion sensors he worked on at Allegheny General Hospital helped him realize his true career passion is experimenting, testing systems, and looking for new and better ways to do things.
Nolen's parents are both pharmacists who met in a pre-pharm class at Howard University, so he naturally grew up with a knowledge of and interest in medicine. "I knew Advil is ibuprofen and Tylenol is acetaminophen as a 10-year-old," he says.
He applied to and visited a number of well-known colleges, including Wake Forest, Georgetown, and the universities of Virginia and Maryland. But when RMU contacted him with a scholarship offer, he came for a visit and was impressed to hear the success stories of individual graduates from the School of Engineering, Mathematics and Science. The small classes and chance to get to work closely with faculty convinced Nolen to enroll.
 
It turned out to be the right decision, he says. He learned a lot in the program; another graduate, Khulood Al Ali '15, is now in CMU graduate biomedical engineering classes with him. Nolen enjoyed campus life too, helping to launch a student chapter of the National Society of Black Engineers and cheering for the Colonials as the men's basketball team won an NEC championship. And in his senior year he met Sneha Gawali, an RMU doctoral student from India. They've been dating since graduation.
"I find myself coming back to RMU quite frequently," Nolen says. "I'm such a fan. It's always such a good time to be with friends and excited and prideful of RMU."