Alums of the Month: Celebrating a Colonial Couple
The 2019 RMU Alumni Heritage Award is given to Doug and Carol and MacPhail.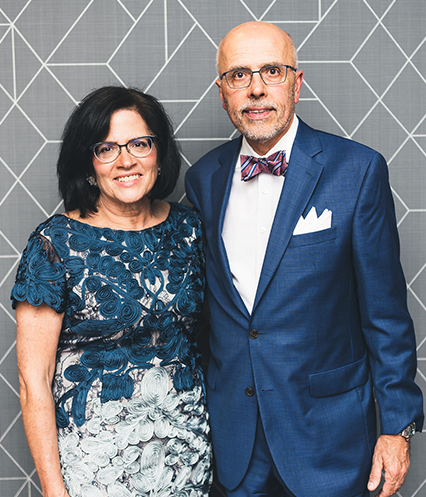 "We are very much in tune with giving back to youth."
Carol MacPhail M '86 and Doug MacPhail '74 have supported each other through 37 years of marriage, the raising of three daughters, two successful careers, and many personal endeavors.
Doug is a senior vice president and portfolio management director at Morgan Stanley, where he has been a financial planner to businesses and individuals for 40 years. Carol is an associate professor of accounting and taxation at RMU and retired partner at Deloitte in Pittsburgh after a career of more than 30 years working at the firm.
Together, Doug and Carol MacPhail are recipients of the 2019 RMU Alumni Heritage Award, the university's most prestigious honor. They were recognized at the President's Council Reception in October for their accomplishments as well as their service to the community and university, including support of the School of Business and creation of an endowed scholarship fund.
The Colonial Couple met when they were both young professionals, talking over a drink at the end of the workday in a downtown Pittsburgh bar. Over the years they have divided domestic duties in ways that allowed each to take advantage of career opportunities as they arose. "We make a lot of calls to each other, a lot of back and forth on things. He's helped me and I help him. And we still do that," Carol says.
They have long enjoyed ski and snowboarding trips with their family, which now includes two grandchildren. They hike together, helping Doug to complete the Appalachian Trail in sections over 12 years. Doug also plays guitar in a rock-and-roll trio, while Carol attends performances as a "roadie." They live in Franklin Park.
Doug, a New Jersey native, graduated with a marketing degree and started his career as a stockbroker at a Pittsburgh investment firm. He obtained his M.B.A. at Duquesne University and later became a certified financial planner. At Morgan Stanley, he completed the account executive program through the University of Pennsylvania. He leads the MacPhail Group investment team.
Carol grew up in Bethel Park and graduated from Carnegie Mellon University with a double major in economics and administrative and management science. She started at Deloitte in accounting and later entered graduate school at RMU to focus her career on taxation. She rose to leadership positions within the company's energy resources practice, and was named the tax managing partner of the Great Lakes region in 2002.
Doug was first to reconnect and get involved at RMU about a decade ago as a member of the board of visitors for the School of Business. He was part of a group of alumni that worked with the university to advance national accreditation of the business program. When the new School of Business Building was constructed, the couple contributed a gift that made possible the MacPhail Commons area.
Carol says Doug's RMU relationships led to her stepping out of retirement from Deloitte to accept a position as department chair in 2012, which she held until 2016. She also is the founding faculty advisor to the Beta Alpha Psi honors fraternity.
Helping young people is among the couple's dearest causes and extends to volunteer service in the community. "We are very much in tune with giving back to youth," Doug says. "We're about mentoring youth and helping them prepare for life after college."
Carol serves on the boards of The Frick Pittsburgh and North Hills Community Outreach, and previously on the local and national boards of the Women's Leadership Council of the United Way. Doug is on the boards of the Mentoring Partnership of Southwestern Pennsylvania and the Crohn's and Colitis Foundation of Western Pennsylvania/West Virginia, and formerly at the Rachel Carson Trails Conservancy.