Alums of the Month: Jay '96 and Amy McKenzie Cravotta '97
They met in marketing class, got sweet while rebranding local ice cream, and have been a Colonial Couple ever since.
Jay Cravotta '96 and Amy McKenzie Cravotta '97 could serve as a prototype for how to juggle family, careers, and even staying fit after college.
The Colonial Couple were both marketing majors and have been together since they met in class. "Our marketing behavior class was involved with a rebranding and marketing campaign for Reinhold Ice Cream," Jay says. "It was a challenging but fun project that lasted for an entire semester."
Jay was a native Pittsburgher, while Amy arrived from Maryland on a softball scholarship. She was part of a 1994 Colonials team that was the first in any sport in school history to earn a national ranking, peaking at No. 23 in the USA Today coaches poll. Amy has since been inducted into the RMU Hall of Fame with the rest of her 1994 team.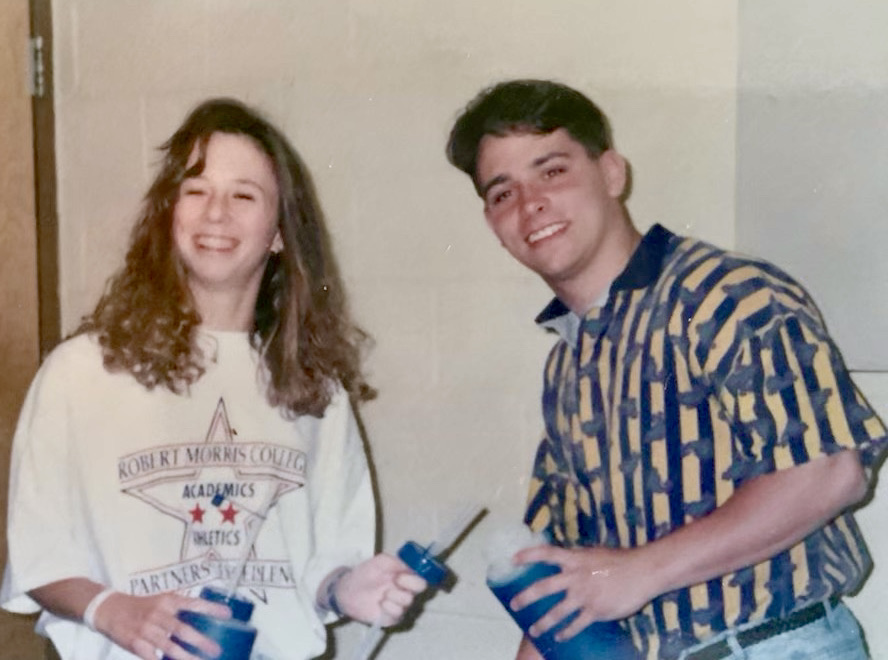 The couple stayed in the area after graduation and now live in Cranberry. Jay is the owner and founder of Office Furniture Warehouse in Penn Hills, which supplies local and national businesses and organizations with new, used, and remanufactured products. He started the company 22 years ago with three employees. It has since grown into one of the largest office furniture businesses in the area and employs 40.
Amy worked as a facilities manager for several companies and as an office manager for Penn Brewery. Then she became a stay-at-home mom for the couple's three children: Carly, Addison, and Jamie. She started sewing nine years ago, helping a seamstress at the studio where her two daughters danced, and it has turned into a satisfying, if unforeseen, career move: "Now I'm working for myself, designing and making custom dance costumes," Amy says.  
When they're not running their respective businesses, Amy and Jay are shuttling their kids to hockey, soccer, cross country, or softball games, and taking part in their own athletic endeavors. Amy is a long-distance runner, while Jay lets off steam with mountain biking and BMX jumping. And they still squeeze in the occasional date night. "We try to get to restaurants we used to frequent, like Wings, Suds & Spuds," says Jay. "Places that are off the beaten path are our favorites."