Alum of the Month - August 2018
RMU women's rowing coach Nelle Stahura '07 M'15 just couldn't stay away from her alma mater.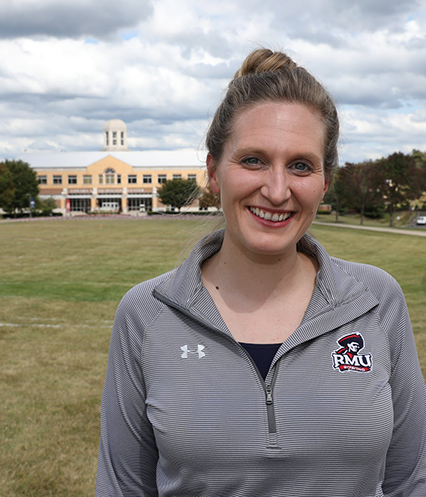 "RMU is such a personal place."
Nelle Stahura '07 M'15 gave up her job as an account executive in New York to follow one of her passions – rowing. She is now the head coach for the Colonials women's rowing team. "As an employee, it is amazing to give students the personal attention that I received as an undergrad," she says. While at RMU, Nelle was a student athlete on the rowing crew while majoring in communication with a concentration in advertising. Now she handles everything from recruiting to fundraising for RMU's NCAA Division I program. "I'm like the group's very responsible aunt," she says.
Nelle is moving to Neville Island so she can be closer to the RMU Island Sports Center. She and the women's team will spend many hours practicing there. "This is going to be a great year for us," she says. "We currently have the largest and most culturally diverse roster that we've ever had. It's a group of wonderful young women who are driven and truly buying into what we're asking of them."
At Homecoming on October 6, Nelle and her team will be hosting a women's rowing alumni reception and ceremony honoring Midge McPhail, Nelle's late coach and mentor, at McPhail Boathouse on the island. "RMU is such a personal place," she says. "It's like one big family."