Alum of the Month - July 2018
Bob Stampfle '04 M'04 M'17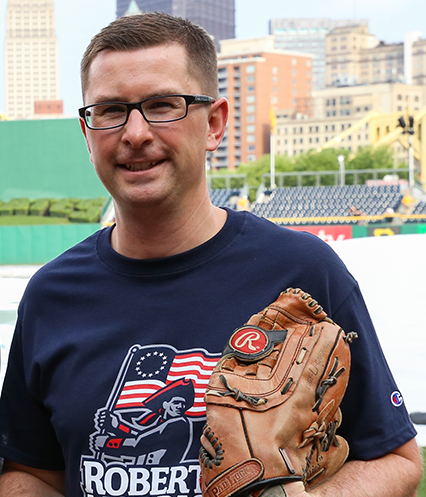 "It was amazing to be out on the field representing RMU."
"At first, I didn't even know if I was going to attend college, but after I was accepted and found out a mutual friend was attending, that changed," he says. His father was an influential advocate for Bob enrolling in the school's first integrated bachelor's-master's degree program in information systems management and internet information systems. Recently, Bob went back and earned his M.B.A. online from his alma mater. His degrees have been useful in his career at VMware, a California-based cloud computing infrastructure and business mobility firm, where he is a business transformation consultant. Bob leads IT transformation efforts with Fortune 500 customers in financial, healthcare, and manufacturing industries.
The job involves a lot of travel -- from Toronto to Miami to Silicon Valley so far this year, with Vienna next on the agenda. Bob had to adjust some travel plans last month so he could throw out the first pitch at RMU Night at PNC Park. "It was amazing to be out on the field representing RMU," he says.
Bob lives in Cranberry with his wife, Jenna Gasparine '07 M'15. Bob and Jenna aren't the only Colonial Couple in the family, though – Bob's younger brother, Mark Stampfle '06, and his sister-in-law, Meghan Jent '05, are also a Colonial Couple. Bob and Jenna met through mutual friends while Mark and Meghan met on campus.
While at RMU, Bob was a representative during the college to university conversion, served on the Student Government board, and was a member of Phi Sigma Kappa fraternity. "Back then, there were only four or five fraternities and two sororities on campus. I have since seen Greek life grow exponentially, expanding with like- minded people. I regularly keep in touch with the guys I graduated with." Bob plans on making an appearance at Homecoming on October 6 to reconnect with fellow alumni.