We've picked a few of our favorite beach experience for anyone dreaming about spending some days in the sand and surf this summer.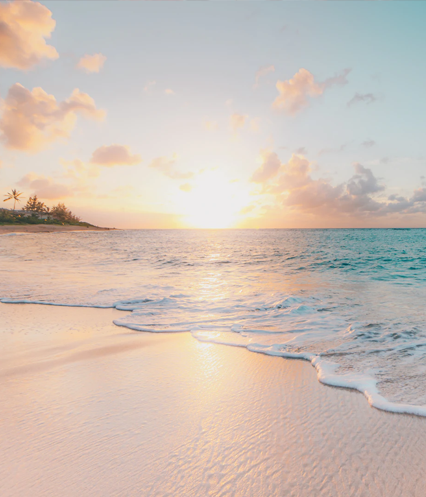 Honeymoon Island, Fla.
A state park accessible by causeway in the Gulf of Mexico near Tampa, Honeymoon Island is a beautiful spot for swimming, fishing, shelling, hiking and bicycling, and is flush with nature. Walking trails through a slash pine forest allow visitors to spot eagles, osprey, great horned owls, gopher tortoises, and armadillos.
Topsail Beach, N.C.
A skinny coastal barrier south of the busy Outer Banks, Topsail Island has beachfront houses with privacy and amazing views, with a small town feeling. Nearby attractions include a sea turtle hospital and a missile museum.
Popham Beach, Maine
Take a brisk swim, explore nearby Fort Popham, island hop during low tide and have a lobstah roll for lunch. This state park near the mouth of the Kennebec River is near the site of the short-lived Popham Colony, founded in 1607 and abandoned the following year.
Vernazza, Italy
The private, rocky beach in this Cinque Terre village is only accessible by walking through a cave in the cliffside and was formed after a 2011 flood and mudslide. While not the best place to lay out a towel and sunbathe in the warm sand, the beautiful sights and crashing Mediterranean waves will give you plenty of entertainment.
Clearwater Beach, Fla. 
This Gulf resort community has it all: white sand, sparkling waters, marinas, bathhouse, boat ramp, full-time lifeguards, playground, showers, attractions, nightlife, restaurants, and accommodations ranging from high-end resorts to old fashioned mom-and-pop motels.
Reynisfjara Beach, Iceland
Basalt stacks and black sand make this one of the most unique spots to view the waves of the Atlantic — just don't get too close, or a sneaky rogue wave might catch you, and the next landmass due south is Antarctica. Visitors can take in the views at any time of day during the summer, with almost 24 hours of daylight, and you don't have to worry about fitting in your bathing suit because the average summer temperature is around 55 degrees Fahrenheit.
Cape Henlopen, Del.
The state park campground has a sheltered sand beach for little ones and a standard Atlantic one for bodysurfing. Plus there is an old World War II fort up in the dunes with concrete observation towers nearby that you can climb to survey the sea for U-boat periscopes.
Bahia Honda, Fla.
The prettiest beaches in the Florida Keys, all natural, not manmade, on an island that is entirely parkland. To the east on Highway 1 is the mesmerizing Seven Mile Bridge, and west is a deep water channel that is a favorite spot for sport fishing for the big tarpon that run there.