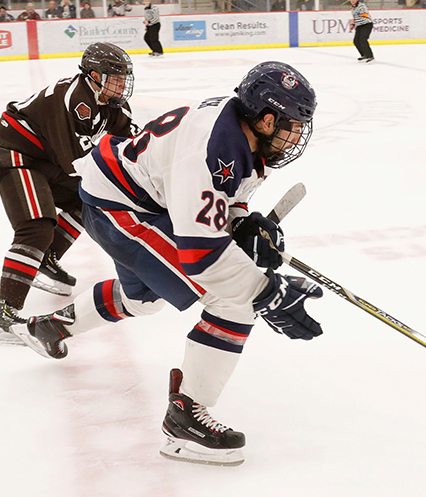 The sounds of Robert Morris hockey star Luke Lynch can be heard everywhere. And anywhere. Whether in the dressing room, at practice, or on game days — especially on game days — the senior center chatters like a seasoned auctioneer.
Wise and quick-witted, Lynch is at his best when lined up against an RMU opponent. Think Don Rickles on ice skates. "I say whatever comes to mind," Lynch says. "I probably can't repeat some of it," he says, laughing. "But I have a way of getting under your skin. And if I can do that, it usually gives our team an advantage. If you're thinking about what I've said for even a half-second, it's likely that you're off your game."
Rarely has the charismatic Lynch been off his game since arriving at RMU in 2016. Utilizing a combination of skill and physicality, he ranked sixth in scoring as a freshman (20), third as a sophomore (37), and second as a junior (31).
The Shaler Area High School graduate arrived at RMU in the shadow of older brother Zac Lynch, who had just finished his Colonials career the previous season as the team's all-time leading scorer. It was a scenario that could have overwhelmed any newcomer, yet Lynch handled it with aplomb. Evidence of this occurred nine games into his freshman season. Facing 11th-ranked Ohio State at home, Lynch scored twice against the Buckeyes, first on a penalty shot that cut the deficit to 4-3, and later on a short-handed breakaway with five minutes remaining that secured a 4-4 tie.
The goals were the first two of his college career and proved that Lynch, who was skating at age 3 and competing at 5, was born for the big moment. He would help the Colonials advance to the American Hockey Association tournament championship game later that season. "He rises when we need him most. His game gets elevated," coach Derek Schooley says of Lynch, who played in 118 of 119 games entering his senior year. "When the stage gets bigger, Luke gets bigger."
Some of the biggest games of Lynch's career occurred in the family's backyard, where he and big brother Zac staged epic, daylong battles on a mini ice rink. An honors student majoring in biology, Lynch has an eye toward a career in pharmaceutical sales after hockey. But that must wait. His current focus is an AHA tournament championship, something that has eluded him thus far. The Colonials have twice reached the final with him on the team, only to lose each time. (Zac was on the only Robert Morris team to win it, in 2014.)
"Winning it all," he says, "would be a perfect way to finish my career at Robert Morris." And it would surely give the ebullient Lynch something to talk about for a long time.