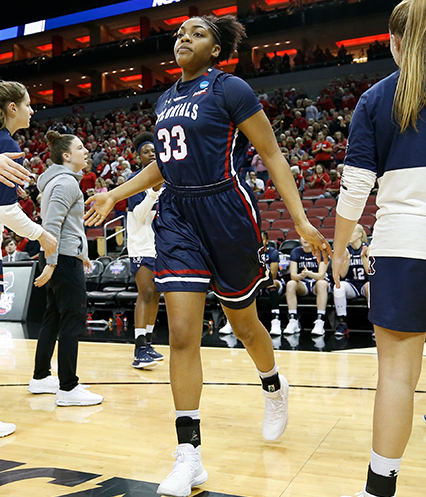 Nneka Ezeigbo crashed to the floor, the result of a collision with a Mount St. Mary's player during the 2019 Northeast Conference Tournament. The Robert Morris center stayed down briefly before hearing the call by the official: charging against the Mountaineers.
She would induce three more of these calls — along with the accompanying bumps and bruises — in what not only became a Colonials semifinal victory, but a springboard to the NEC title. Ezeigbo was named Tournament MVP for averaging 15.7 points, 9.7 rebounds, and 2.0 blocks in three games.
"We won together. We all deserved to be named MVP," Ezeigbo says. "I feel as if the team got added energy from the charging calls. After the second one, the atmosphere changed. We were saying, 'Yeah, let's go now.' It's about making sacrifices for the team. It's part of the culture at Robert Morris."
A 6-foot-2 senior, the New Jersey native is arguably the best player in the NEC. Arriving at RMU as a "raw talent," per coach Charlie Buscaglia, Ezeigbo is the team's best scoring, rebounding, and defensive option.
 
She averaged 12.5 points, 7.8 boards, 1.3 blocks, and 1.7 steals en route to earning NEC Defensive Player of the Year and first-team All-NEC honors last season. The three-time All-NEC pick also has sported a variety of hair colors — red, pink, purple, orange — that speaks to her individuality and don't-put-me-in-a-box mentality.
The daughter of a mother from Jamaica and a father from Nigeria who died of cancer when his daughter was in high school, Ezeigbo is buoyed by family and self-belief. "It wasn't easy losing my dad; it was eating at my mom for a while," says Ezeigbo, whose older sister, Chukwuka, played basketball at Marshall University and younger brother, Obi, plays football at Gannon. "But it brought our family closer together. Everything I do, I do for them."
Ezeigbo entered the 2019-20 season ranked seventh all-time at RMU in blocked shots (82), while needing just 71 points to reach 1,000. She will go down as one of the top interior players in school history.
"As good as she is on the court," says Buscaglia, "she's just as great off of it." The coach recalls a team visit to Los Angeles to feed the homeless last Thanksgiving. Ezeigbo's smile, he said, was infectious. "Everything came so naturally to her," he says. "It was another one of her signature moments here."
A psychology major who earned a 4.0 GPA last spring, Ezeigbo said she is open to a professional basketball career before pursuing a master's degree with a focus on treating substance abuse. For now, she is enjoying her time in Moon Township. "Robert Morris has been amazing," she says. "The people I've met. The things I've learned. I've grown in so many ways here. This experience has shaped me into the player and the person I am today."