Three Generations of Fans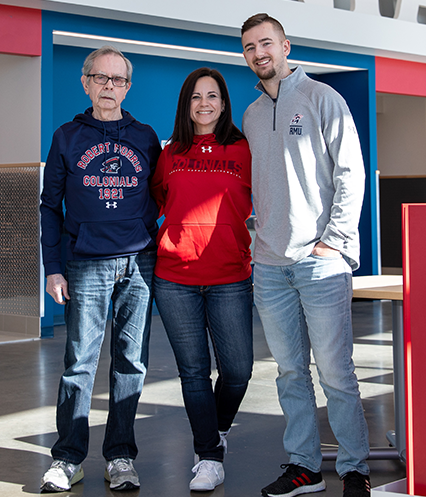 For three generations of the Morrow and Veitch families, Robert Morris University serves as more than just a common thread. It's a family tie that binds.
This branch of the family tree begins with John Morrow '73, links to his daughter, Susan Morrow Veitch '89, and extends to her son, Chris Veitch, who will graduate in May with an integrated bachelor's in accounting and master's in business administration.
But the three had never been on campus together before until November, when they came to the Peoples Court at the new UPMC Events Center to cheer for the women's basketball team, the defending Northeast Conference champions, at a Sunday matchup against Columbia University.
"I'm happy we have that RMU bond," says John. "We talk about it a lot, and I'm proud of the time we spent there." John started taking night classes in 1959 when the school was in the William Penn Hotel. After retiring from a 37-year career at Equitable in 1991, he spent another 19 years as secretary and treasurer of its credit union, which grew from assets of $1.7 million to nearly $50 million in that span. His career and work ethic sprouted Susan's desire to follow in her dad's footsteps. "My dad was the consummate professional, working 9-to-5 and wearing a suit and tie every day," she says. "He was a great example and I wanted to emulate him."
John accompanied Susan on her only college visit, which clinched her decision to attend RMU downtown as a commuter. She remembers going to the Souper Bowl restaurant with classmates and relishing the challenge of finding a parking spot close to the school: "There was that little triangle area next to campus that had maybe four or five legitimate spots, and I would always try to squeeze in to make a sixth one."
Susan used her education and ingenuity to build a career in the food service industry, including for the past 27 years with The Nutrition Group, where she has risen steadily through the ranks to become a vice president and member of the executive management team.
As Chris considered his college options, he also wanted a school with a strong, well-known accounting program. He also decided to make a visit to his mother and grandfather's alma mater, with Susan accompanying him on what was her first visit to the Moon Township campus. "I loved everything about it, how organized the process was, the tour, the academics," she says. "And of course, I was silently crossing my fingers that Chris was loving it the way I was."
Chris plans to sit for the CPA exam after graduating and aims to become business manager for a school district. For him, the small class size at RMU has proved to be an important benefit. "You get to know your classmates," he says. "Our classes are big enough to matter and small enough that you're on a first- name basis with everyone."
"I've told people our RMU story, and they're amazed about our family trifecta," Susan says. "It makes me realize that it's something special we all share."