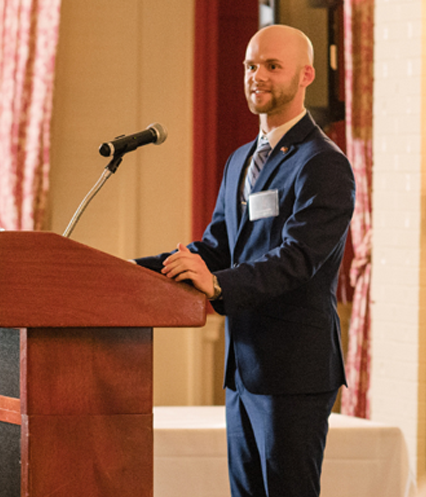 "I discovered my passion and changed my life path permanently."
Dillan Gaydos has made the most of Robert Morris University's core value of global perspective. When Gaydos became a community advisor or C.A. — otherwise known as an R.A. — his junior year, he ran the Global Village living and learning community, helping international students adjust to campus life and make connections and friends with American students. This year he is the Global Village student coordinator as well as lead C.A. for all of Yorktown Hall.
The Uniontown native is a senior earning dual bachelor's degrees in economics and history with a minor in international business. During the fall of 2016, Gaydos studied abroad at the American Business School of Paris. "The experience was fantastic," he says. "Professionally, I discovered my passion and changed my life path permanently. Personally, I made incredible friends that I am still in contact with and experienced things
I never thought I would have the chance to do."
Gaydos developed a passion for global equality through internships at Global Links and Global Pittsburgh. Over the summer he assisted in planning a U.S. Department of State summit meeting with leading professionals from Africa studying in the United States through the Mandela Washington Fellowship.
At this year's President's Council annual reception, Gaydos was presented with the 2018 Rising Star Award, given each year to one graduating senior who demonstrates academic success, individuality, determination, passion, and potential in his or her field of study. He aspires to serve as a public diplomacy officer in the U.S. Foreign Service, advocating for exchange fellowships.