Newsroom
Robert Morris University
RMU, Laurel Institutes, and Pittsburgh Technical College Team Up To Make Bachelor's and Master's Degree Affordable and Accessible
Students throughout western Pennsylvania will have affordable new pathways to earn bachelor's and master's degrees thanks to articulation agreements signed today by Robert Morris University with the Pittsburgh Technical College and Laurel Institutes.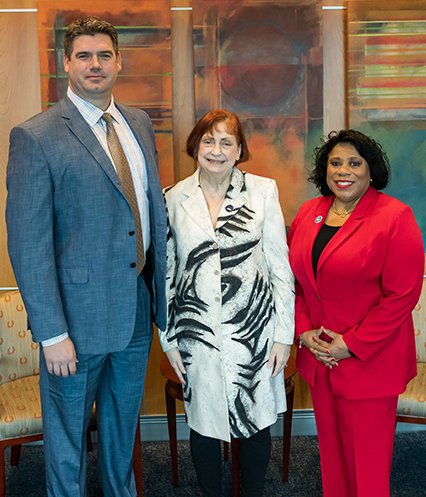 The agreement with Pittsburgh Technical College, located in Oakdale, creates 34 combinations of PTC associate degree programs that will transfer seamlessly to RMU bachelor degree programs. They cover a wide spectrum of bachelor's degrees available at RMU, from accounting to sport management to nursing to UX/UI to criminal justice to cybersecurity.
What's more, the agreement creates four combinations of PTC bachelor's degree programs that will transfer seamlessly into RMU master's degree programs that can be completed in one additional year of graduate school. Because PTC students are able to earn a bachelor's degree in only three years, students who take advantage of this program will complete a bachelor's and master's degree in just four years. That will save students two years and thousands of dollars in tuition.
"Expanding access for our students and providing them with opportunities to advance their education and careers are key hallmarks we instill at Pittsburgh Technical College," said PTC President and Chief Executive Officer Dr. Alicia B. Harvey-Smith. "Our partnership with Robert Morris is another great step in that direction and provides students with even more opportunity—right in our backyard."
RMU's three new agreements with Laurel Institutes will allow students who earn an associate degree in early childhood education or accounting to transfer seamlessly into a bachelor's degree program at RMU.
Students who transfer from Laurel with an associate degree in early childhood education can earn a bachelor's in early childhood education from RMU, and Laurel accounting students can choose from either a bachelor's in accounting or management and marketing from Robert Morris.
Laurel has four locations, three in western Pennsylvania – Uniontown, Hermitage, and Meadville -- and one in Morgantown, West Virginia.
"Our partnership with RMU establishes educational opportunities for graduates of two of our online programs to continue their career goals. For our Accounting & Business Administration graduates, it provides two educational pathway options," said Amy Braymer, vice president of education at the Laurel Institutes. "Additionally, the Early Childhood Education articulation agreement not only creates an educational pathway to earn an affordable bachelor's degree, but it also helps continue their career pathway in the Early Childhood Education field."
Over the past year, RMU has greatly expanded its articulation agreements with institutions throughout the Pittsburgh region and beyond. This includes the RMU Gateway program, an expansive dual-enrollment and dual-admissions initiative with Community College of Allegheny County, Community College of Beaver County, Butler County Community College, and Westmoreland County Community College. RMU also signed recent agreements with Pennsylvania Highlands Community College and West Virginia Northern Community College.
"RMU has an unshakable commitment to ensuring that our communities have the highly qualified professional workforce they need to thrive in the decades to come. We share with all our academic partners the conviction that our students must have access to affordable and flexible options for earning a college degree," said RMU Interim President Dr. Mary Ann Rafoth, who also serves as the university's provost.
Editor's Note -- Photos and video available upon request.