Newsroom
Robert Morris University
RMU Partners with Two More Community Colleges To Create Affordable Pathways to Four-Year Degrees
Penn Highlands and West Virginia Northern community colleges join a growing list of transfer partners for Robert Morris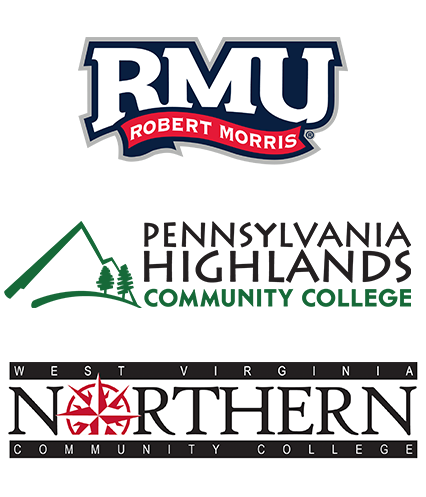 Robert Morris University signed articulation agreements today with Pennsylvania Highlands Community College and West Virginia Northern Community College (WVNCC) to create affordable pathways for community college students to earn a four-year degree.
RMU also announced today that the Richard King Mellon Foundation has awarded the university a $250,000 grant in support of the new RMU Transfer Success Center, a one-stop shop for all transfer students to access university services, including academic advising and financial aid. Each student will be assigned to a transfer success counselor. 
"RMU shares with all our community college partners an unwavering commitment to ensuring that a four-year degree is affordable and accessible to students no matter where they are on their educational or professional journey," said RMU President Chris Howard. "We are grateful to the Richard King Mellon Foundation for their support of this vital mission."
The agreement with Penn Highlands, based in Johnstown, creates 26 combinations of Penn Highlands associate degree programs that will transfer seamlessly to RMU bachelor degree programs. RMU majors included in the agreement are accounting, business administration, management, marketing, sport management, cinema and photography, computer and information systems, cybersecurity, criminal justice, English, writing, organizational leadership, history, economics, health sciences, psychology, and interdisciplinary studies. 
"These transfer agreements signify that we are committed to identifying those collaborations that are beneficial to Pennsylvania Highlands Community College and to Robert Morris University, but most importantly, to our shared students and to the communities we both serve," said Penn Highlands Community College President Steve Nunez. "Ultimately, these agreements ensure that students of Pennsylvania Highlands can easily transfer to Robert Morris University, where they will receive an outstanding education as they earn their bachelor's degree."
The agreement with WVNCC, based in Wheeling, includes eight pathways for WVNCC students to earn an associate degree and then transfer seamlessly to RMU to complete a bachelor's degree. RMU majors included in today's agreement are accounting, management, business administration, criminal justice, cybersecurity, and computer and information systems. 
"We are thrilled to ink this articulation agreement with a higher education institution with a solid reputation like Robert Morris University," said WVNCC President Daniel Mosser. "These new pathways are focused on student success in three critically important program areas including business, criminal justice, and computers and information technology. We are pleased to make this connection for our students who now have a clear 'articulated' pathway to their bachelor's degrees." 
Today's announcement is just the latest in a series of agreements that RMU has signed with community colleges throughout western Pennsylvania and beyond. Also new for this fall is the RMU Gateway program, announced in February, which allows students from one of four community colleges to take up to 12 credits at RMU at the same time that they earn an associate degree from their community college. RMU Gateway students pay their community college rate for those 12 credits, while having the option to live on campus and participate fully in campus life. 
RMU Gateway is open to students at Community College of Allegheny County, Community College of Beaver County, Butler County Community College, and Westmoreland County Community College.