Newsroom
Robert Morris University
RMU Names Michelle Patrick Interim President
The Robert Morris University Board of Trustees has appointed as interim President Michelle Patrick, dean of the RMU School of Business, effective immediately.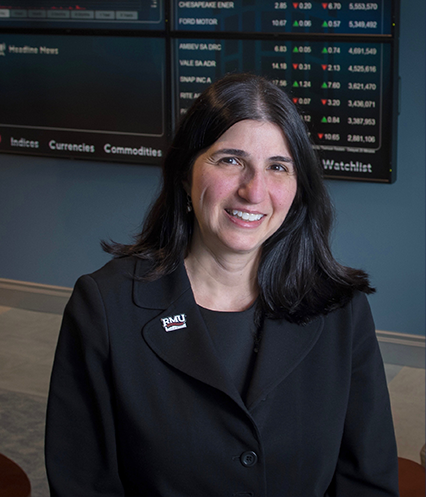 The Board's selection of Patrick follows the decision by interim President Mary Ann Rafoth to retire from RMU. Rafoth also served as provost and senior vice president for academic affairs, a position she had held since 2019. Rafoth joined RMU in 2011 as dean of the former School of Education and Social Sciences.
Patrick will lead RMU during the remainder of the search for a permanent successor for Chris Howard, who left the university in February to become an executive vice president at Arizona State University. Howard had been president for six years.
"I am honored and delighted to lead Robert Morris University during this transition period. As our centennial year concludes, RMU is poised to continue its upward trajectory of success over the next 100 years and beyond," said Patrick. "I look forward to working with the Board of Trustees, faculty and staff to ensure RMU remains 'Big enough to matter, small enough to care.'"
Patrick has led the RMU School of Business since 2016, and the culture of change and innovation that she has sparked there is typified by the transformation of the MBA program, which was recently ranked No. 15 in the nation among online MBA programs by Fortune Magazine.
Under Patrick's leadership, the school achieved reaffirmation of its prestigious AACSB accreditation; developed innovative new certificate and degree programs; launched the Center for Sales Excellence and the Rockwell Fellowship in Entrepreneurship and Innovation; and re-established the Massey Center for Entrepreneurship and Innovation. Each of these initiatives provides students with valuable real-world experiences and have strengthened RMU's ties to the regional business community.
Prior to joining RMU, Dr. Patrick served as dean of the College of Business and Public Management at West Chester University of Pennsylvania. She earned a B.S. in marketing and an MBA from Youngstown State University, and a Ph.D. in marketing from Kent State University.