Top Honors for Two Seniors
A couple of double majors earn Presidential Undergraduate Awards.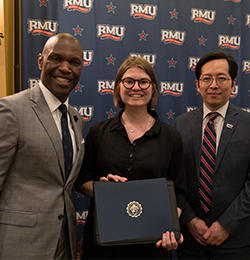 Every year RMU President Chris Howard honors 10 graduating seniors, two from each of the five schools, chosen by the faculty for their achievement. This year the winners from the School of Business are both double-majors: Mary Funderlich, who majored in Finance and Accounting, and Andrew Miller, who majored in Marketing and Sport Management.
Funderlich is an Honors Program graduate who put her classroom knowledge to great use by competing successfully in the Allegheny CleanTech Business Plan Competition, where her team's plan for tiny houses for homeless veterans won the "Fan Favorite" Award and $5000 She was also part of the Accounting Team that won first place in the PICPA Audit Case Competition, beating 28 teams from 6 area universities. She studied accounting abroad in Japan and Taiwan and had internships at PricewaterhouseCoopers and Ernst & Young, where she has been offered a full-time job as an associate.
Miller completed four internships during his time at RMU, including with the Pittsburgh Steelers and the Portland Trailblazers, where he earned the Jerome Kersey Award for excellence among the internship staff. He earned a 3.99 GPA and worked as a lead community advisor for residenc life. He also was the lead organizer for Colonial Chaos, organized 120 volunteers and celebrities to raise over $1,300 for CF research. This spring he w as a key member of a 6-person RMU team that worked with students at a Swiss university on a market feasibility study for a European company.
"These students are the best of the best," President Howard said in his remarks at the Presidential Undergraduate Awards Dinner.