Students Win Presidential Award
Top two seniors in SESS recognized for scholarship and service.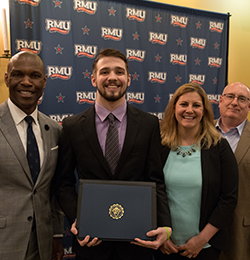 Every year RMU President Chris Howard honors 10 graduating seniors, two from each of the five schools, chosen by the faculty for their achievement. This year the winners from the School of Education and Social Sciences are Tyler Axleson, a Sport Psychology major, and Mara Ruzicka-Butz, an Early Childhood and Special Education major.
Throughout his RMU career, Axleson has demonstrated excellence in both academic performance and community service. He was president of the RMU chapter of Psi Chi, the national psychology honorary, and he has volunteered at Children's Hospital of Pittsburgh, and the UPMC Centers for Rehabilitative Services. His academic honors include the Distinguished Student in Psychology Award, and the John R. Bassett Memorial Scholarship. He has been accepted into the doctoral degree program in physical therapy at Northwestern University.
Ruzicka-Butz graduates with a 4.0 GPA and an extraordinary record of participation and service. A mentor and program coordinator for Strong Women/Strong Girls and a member of the women's rugby team. She traveled to Belize on an RMU study trip, completing her field experience in elementary education there. Not only a member of the Honors Program, Ruzicka-Butz has been one of its true leaders, chairing book clubs and serving as vice president of the Honors Student Council. She is already enrolled in the master's degree program in Instructional Leadership.
"These students are the best of the best," President Howard said in his remarks at the Presidential Undergraduate Awards Dinner.