Communication B.A. (Corporate Communication)
Apply Today
The B.A. in Communication with a concentration in Corporate Communication prepares students for careers developing and communicating strategic messages within the business environment. Students learn internal and external methods of professional communication, whether their jobs will involve writing speeches, designing or editing company publications, communicating media messages, or other assignments. They also benefit from the university's focus on practical education and internships.
Graduates go on to careers in corporate communications, advertising, journalism, public relations, and marketing. Jobs include corporate trainer, crisis management coordinator, document designer, speech writer, and media liaison.
Contact Information
Petros G. Malakyan, Ph.D.
Department Head, Communication and Organizational Leadership
malakyan@rmu.edu
412-397-6302
4-Year Course Plan

Freshman Year, Fall

COMM 2100
JRNL 2015
CSEN 1010 or 1020
2 RMU Core courses
FYSP

Freshman Year, Spring

COMM 2040
CSEN 1020 or CSCM 1030
3 RMU Core Courses

Sophomore Year, Fall

COMM 2000
CSCM 1030 or 2040
ARTM 2425
INFS 2412
1 RMU Core Course

Sophomore Year, Spring

COMM 2015
CSCM 2040 or 2050
COMM 2020
1 RMU Corporate COMM Elective
1 RMU Core Course

Junior Year, Fall

COMM 3301
INFS 3410
2 OPEN Electives
1 RMU Core Course

Junior Year, Spring

COMM 3950
Corporate COMM Elective
3 OPEN Electives

Senior Year, Fall

COMM 4060
MGMT 3100
1 Corporate COMM Elective
1 OPEN Elective
1 RMU Core course

Senior Year, Spring

1 Corporate COMM Elective
4 OPEN Electives
Sample Courses:
These are some of the classes for students in this academic program:
Training & Development in Business
Survey of Mass Communication
Writing for a Global Marketplace
Communication, English, Journalism
Communication Skills, Economics, Humanities, History, Sciences, etc.
Top Employers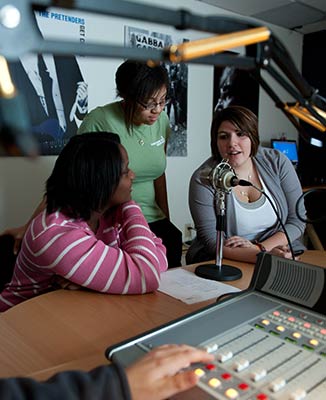 School of Informatics, Humanities and Social Sciences
Focus on delivering information in a way that makes an impact. Create images that capture attention, compose words that inspire, and design technology that changes how we live.
Visit School Site