Early Childhood Education B.S.
Apply Today
The B.S. in Early Childhood Education degree program prepares students for careers in teaching, serving pupils from pre-kindergarten through 4th grade in schools, childcare settings, and child-focused agencies. The professional core courses, competencies, and experiences for the PreK-4 teacher preparation program develop teachers who are prepared to serve children and their families. The program also offers a concentration in Special Education for those who want to work with children facing learning and developmental challenges.
Graduates are certified to teach in preschool, kindergarten, and primary classrooms from grades 1-4 in Pennsylvania.
The initial teacher preparation and advanced educator programs in the School of Nursing, Education, and Human Studies have been accredited by the Council for the Accreditation of Educator Preparation (2020-2027). The B. S. in Early Childhood Education at Robert Morris University is accredited by the Commission on the Accreditation of Early Childhood Higher Education Programs of the National Association for the Education of Young Children (September 2021-September 2023).
Click here to view Early Childhood Education Program Accreditation Outcome Data.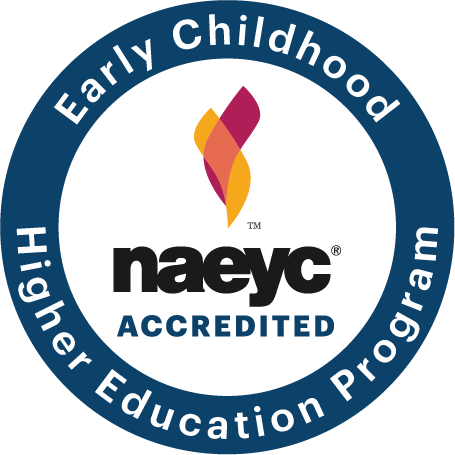 Contact Information
Susan W. Parker, Ph.D.
Department Head, Education
parkers@rmu.edu
412-397-6245
4-Year Course Plan

Freshman Year, Fall

CSEN 1010 Reading & Writing Strategies OR CSCM 2050 Intercultural Communication
PSYC 1010 General Psychology
MATH 1050 Reasoning & Applications
SOCI 1010 Principles of Sociology OR SOCI 1020 Contemporary Social Problems
ECED 2100 Intro to Early Childhood Education
Freshman Seminar (1 credit)

Freshman Year, Spring

CSEN 1020 Argument & Research
SCIE 1020 Fundamentals of Science
MATH 2010 Fundamental Concepts of Math
HUMA 1010 Humanities: Art/Music
EDUC 2100 Ed Psychology / Classroom Management

Sophomore Year, Fall

CSCM 1030 Public Speaking & Persuasion
GEOG 1020 World Geography
ENVS 1160 Environmental Science
PSYC 3535 Child Development
EDUC 2200 Technology for Teachers 
ELIT 1070 Children's Literature

Sophomore Year, Spring

CSCM 2040 Business & Professional Communication
HIST 1100 U.S. History I OR HIST 1200 U.S. History II
ECON 1010 Survey of Economies
SPED 3010 Intro. to Special Education K to 12 
ECED 2120 Early Literature & Language Development

Junior Year, Fall

ECED 2130 Numeracy
ECED 3100 Int. Arts for the Developing Child
EDUC 3400 Curriculum Inst./Design 
SPED 3020 Inclusive Classroom PreK-12
POLS 1020 American National Government

Junior Year, Spring

Senior Year, Fall

ECED 4000 Social Studies Methods
ECED 4010 Math Methods
ECED 2140 Reading Difficulties & Diagnosis
EDUC 3165 Teaching English Language Learners
ECED3400 Reading in the Content Area
ECED 4060 Pre-Student Teaching (0 credits)
Retake ECED 0101ECED PECT Prep (0 credits) if needed

Senior Year, Spring

ECED 4200 Student Teaching (9 credits)
ECED 4210 Student  Teaching Seminar (3)
Admission Requirements

To receive acceptance to Robert Morris University's education programs, students must meet one of the following sets of academic criteria listed here:

Additional admission requirements for RMU education programs are available on this page.
Sample Courses:
These are some of the classes for students in this academic program:
Child Development
Early Literacy & Language Development
Student Teaching Seminar
Communication Skills, Economics, Humanities, History, Sciences, etc.
Top Employers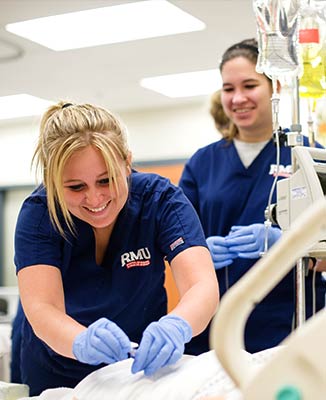 School of Nursing, Education and Human Studies
More than ever before, today's complex healthcare environment needs skilled clinicians,  expert communicators, and good people. Our students are about more than a major.
Visit School Site