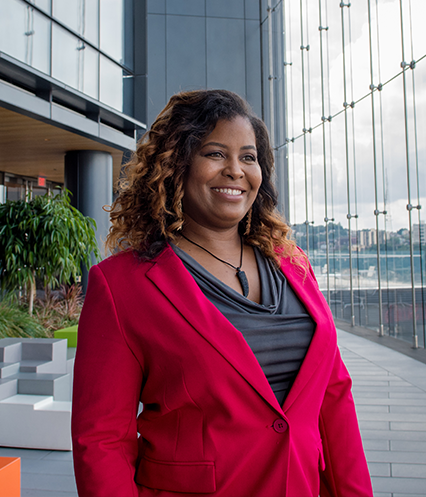 "Robert Morris had the perfect curriculum for what it was that I was looking to do."
Raising four children while working full time is plenty for anyone to have on their plate, but Kenya Matthews wanted more. She wanted to lead. She wanted to better herself. And she wanted to show her children what it means to commit to something.
Kenya enrolled in Robert Morris University's master's degree program in Organizational Leadership program in 2016 with the goal of graduating in just 18 months. With just six months to go, her employer laid her off. Still, she kept at it.
"You have to constantly remind yourself why you chose to do it in the first place," Kenya says. "It wasn't just about making it up the corporate ladder, but also about doing something for my children to look up to."
PNC Bank hired Kenya four weeks later. She graduated on time, and has since been promoted to assistant vice president. She oversees two agile teams and is responsible for the ways customers interact with the financial giant's lending products. She also volunteers as president of the African American Employee Resource Group of PNC Pittsburgh and a virtual chapter with more than 800 members.
Kenya says she appreciated how professors tailored her education to the way she learns best — a key component of leadership, she said. Now she does the same for her team at PNC. 
"It allows me to take a step back and understand the needs of the people who report to me," she says. "I can be a leader for them in the way they need me to be a leader for them."