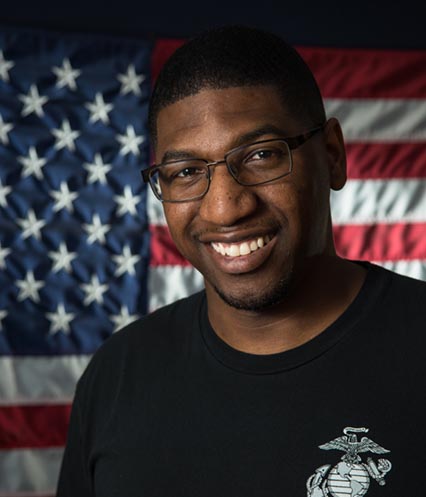 "I knew RMU would be the perfect fit for me to build upon the skills I learned in the Marine Corps." 
After retiring as a sergeant in the Marines after four combat deployments in Afghanistan, MYRON ELLIS was ready to start thinking about a career in either labor relations or human resources. His wife was from Pittsburgh, so that was where they decided to take the next step. After speaking to a number of universities in the area, Myron decided RMU was the best place to build on the skills he had already learned.
He didn't waste any time getting started. Myron had already taken four RMU online classes to prepare to become a full-time student. On campus he majored in management and got also involved with campus organizations, serving as president of the local student chapter of the Society for Human Resource Management, acting vice president of the Student Veterans Association, and a member of the Black Student Union. Myron also had an internship at Highmark in university relations and talent acquisition.
After graduation, Myron plans to go on to graduate school to study labor relations or human resources. But first he plans to take some time with his wife to celebrate the birth of their first child. For veterans like Myron who are in a transition period from serving their country, RMU provides excellent opportunities to build a successful civilian career.