Academic Media Center: About Us
The AMC equips students to excel in media skills, critical thinking, creative collaboration, ethics, and management.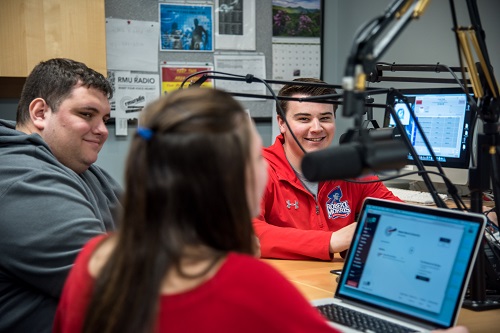 We offer spaces for students, faculty and staff to collaborate, explore, and create converged media content.
Overview:  Media today has the immense power to transform – to educate, motivate, and inspire. That's what makes Robert Morris University's state-of-the-art Academic Media Center (AMC) such a distinctive partner in developing unique, experiential learning opportunities. Since, DATE, the AMC has served as a campus-wide, cross-disciplinary, immersive learning center and incubator, fostering new technologies and media experiences in the studio, the classroom, the community or workplace.
Vision:
The Academic Media Center is a space for students, faculty and staff to collaborate, explore, and apply converged media experiences and content that benefit the RMU community
Mission:
The AMC is dedicated to community service and enhancing the educational mission of Robert Morris University by equipping and empowering students to excel in media skills, critical thinking, ethics, creative collaboration, and management
AMC Staff
AMC Staff expertise includes:
expertise in animation arts, simulation training, media studies, community dynamics, filmmaking, and developing media-based learning environments
expertise in videography, editing, live video, and sound engineering
experts in television programming production and direction
expertise in writing for television and film
content strategy, writing and editing, with additional expertise in marketing strategy, branding, and organizational strategy
Timothy Jones Ph.D - Center Director
Assistant Professor of Media Arts
jonest@rmu.edu
Dr. Timothy Jones is Assistant Professor of Media Arts, focused on Cinema and Photography and UX/UI. Since joining RMU in 2018, he has been teaching a diverse range of courses in media aesthetics and production, reaching from concept development to immersive storytelling and the evolution of media industries. As Director of the Academic Media Center (AMC), he supports diverse experiential learning opportunities in student media (RMU Radio, TV and Sentry Media) as well as the AMC studios and labs, from Animation to Virtual and Augmented Reality (VR/AR).
Toni Brendlinger - Administrative Assistant
Joseph Hale - Media Engineer
Ray Zaparoni - Staff Videographer
John Perrotto - Student Media Advisor
Kathleen Uzhazy - Production Coordinator/TV Production Coordinator
Michael Bennett - TV Production Coordinator
Kenny Zimlinghaus - Radio Production Coordinator
Converged Media Committee
The RMU Converged Media Committee provides support to all student media organizations hosted by the AMC. The committee oversees the student-run election of platform Editors-in-Chief and provides advice and consent on the selection of candidates to fill university-funded leadership positions. The committee meets regularly to provide a forum for collaboration with and feedback from the student body, faculty, staff and community stakeholders.
Members:
Dr Heather Pinson 
Dr Timothy Jones
Dr Anthony Moretti
John Perrotto
Melanie Hulse, EIC, Sentry Media 
Jonathan Hanna (Colonial Sports Network)
Colby Sherwin (Sentry EIC)
Cameron Macariola (CSN EIC)
Ally Yovetich (RMU TV GM)
Committee Bylaws (Coming This Fall)