National Survey of Student Engagement (NSSE)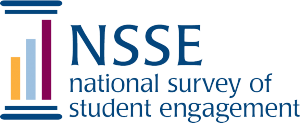 NSSE is a college student survey that assesses the extent to which students engage in educational practices associated with high levels of learning and development. Per its sponsoring organization, "NSSE was specifically designed to assess the extent to which students are engaged in effective educational practices and what they gain from their college experiences. Voluminous research on college student development shows that the time and energy students devote to educationally purposeful activities is the single best predictor of their learning and personal development. Therefore, the main content of the NSSE instrument represents student behaviors that are highly correlated with many desirable learning and personal development outcomes of college".
NSSE has become an important assessment tool in higher education.  In 2018 over 500 colleges, including RMU, participated in NSSE.  About 290,000 college freshmen and seniors took the NSSE in spring 2018 including 280 RMU freshmen and 350 RMU seniors.  The 2018 administration of NSSE was RMU's seventh participation in this survey which is administered in the spring of even-numbered years. 
RMU's 2018 results by NSSE category reveal few statistically meaningful differences from the results of comparison group colleges.  Those categories include (level of) academic challenge, learning with peers, experiences with faculty, and campus environment.  Comparison of RMU's results with those recorded by the highest-performing NSSE colleges shows that they outstrip RMU in categories pertaining to learning strategies and the quality of student-faculty interaction although the degree of these differences is narrowing.  RMU compares favorably with these high-performing institutions in quantitative literacy, collaborative learning, diversity and the supportiveness of RMU's campus environment.
At the individual question level, when compared with other colleges and universities RMU shows strength in participation in student organizations, internships, attainment of presentation and speaking skills, and participation in learning activities that take place outside the classroom.  RMU was weaker than the comparison group in development of values and ethics, imparting writing skills and requiring students to synthesize information from multiple classes and sources in order to address academic challenges and problems.  RMU's results were not significantly different on many other NSSE questions that fall between these two extremes.
RMU administrators are examining the NSSE results (both aggregate and at the departmental levels) to seek opportunities to improve students' RMU experience and to address any weaknesses identified via the survey.