Newsroom
Robert Morris University
2021 Presidential Transformational Award
Dual finance/econ major Zaithwa Gwaza receives RMU's most prestigious student honor.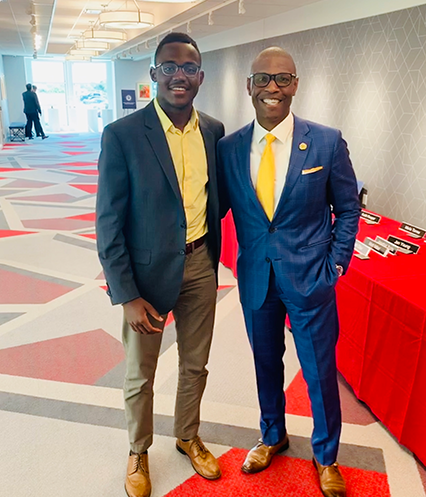 When commencement ceremonies are over and last goodbyes are said to his fellow students, Zaithwa Gwaza will have some important choices to make about his future. Luckily, the senior business major had a lot of practice making difficult decisions.
Many of those came in the last two years, when Gwaza was president of the Student Government Association. The Malawi native, recipient of the 2021 Presidential Transformational Award, RMU's most prestigious undergraduate honor, says he relishes being involved in serious situations where decisions have consequences. 
The most consequential decision he made was four years ago, when he accepted a private scholarship arranged by his school vice principal to come to Robert Morris University sight unseen. Gwaza says his parents had paid for him to attend the best private schools in order that he would someday study abroad, so he leapt at the opportunity. "I just wanted to be in America," he says. "I knew that if I did, whatever school I went to I would flourish."
He considers himself lucky to have landed in Pittsburgh, a city with a sports culture he has embraced. And Gwaza says he has felt at home at RMU since the first week, when he was inspired by a speech by President Chris Howard about seizing opportunities — and further encouraged when he learned that the president's wife, Barbara, is also from Africa.
He has flourished as he predicted. Gwaza graduates with a dual concentration in economics and finance, after completing three years as a residence life community assistant and successfully completing internships with Confluence Financial Partners and Northwestern Mutual. He also helped to manage the university's free income tax counseling service, and played defense on the club soccer team. Gwaza says he thrives in networking situations, not only with fellow students but also with members of the university Board of Trustees during their business meetings, which he attended as student representative.
"You can work hard, but if you don't know the right people you won't have access to opportunities," he says. "Hard work is so important, but the people who can recognize your hard work and connect you to other people who are important in your specific field, that's what matters. It's a game of connections."
Gwaza plans to work in investment management, and also is interested in seeking a graduate degree in data analytics toward that end. Now, he says, is time to weigh the choices up and make a decision.